Everett Grist's Big Book of Marbles 3rd Edition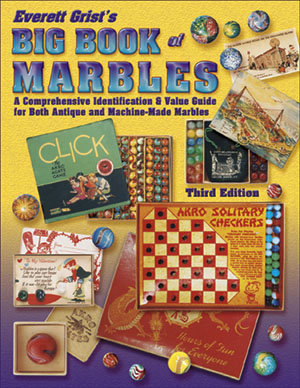 Many new color photographs showcasing thousands of machine-made and contemporary marbles have been added to make this book an even bigger Big Book of Marbles. This third edition brings marble collectors even more information, with added discussion on marbles at auctions, art glass and new comics, and listings of marble clubs. Grist has also drawn from one of his other books, Machine-Made & Contemporary Marbles, for this new edition. Now with almost 400 large, detailed full-color photographs, this book is the essential resource for the marble collector. Fifty new shots have been added to the 400 detailed color photographs, and over 1,000 marbles produced by West Virginia companies have been identified for this new edition. The author enlisted the help of knowledgeable historian Ron Shepherd, co-founder and past president of the West Virginia Marble Collector's Club for this volume. SHIPPING FEES: Domestic shipping is available for $6.00 for the 1st book and $0.70 each additional book (via media mail). International shipping is available or $11.00 per book via USPS (15 to 20 business days for delivery) and $30.00 fro the first book 1st book and $10.00 each additional book via FedEx (4 to 8 business days for delivery).
Dealer accepts: PayPal
Shipping: $6.00
Items Similar To "Everett Grist's Big Book of Marbles 3rd Edition"