Edison Illuminating Company of St. Louis 1890's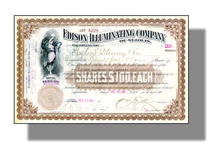 Click thumbnails for expanded view.

Beautifully engraved Certificate from the Edison Illuminating Company issued in the 1890's. This historic document was printed by the Franklin Banknote Company and has an ornate border around it with a vignette of a woman holding an electrically lighted globe. . This item is hand signed by the Company's President is over 102 years old. The company was an early licensee of Edison's technology to generate electricity in St. Louis. It was acquired by the Union Electric Company in 1903. The Union Electric Company was controlled by the North American Company, which became the North American Edison Company.
Certificate Vignette Thomas Alva Edison's Life 1847 Thomas Alva Edison was born in Milan, Ohio, to Samuel and Nancy Elliott Edison. 1854 Family moved to Port Huron, Michigan. 1855 Attended school for three months. 1859 Began selling newspapers, candy and food on the Grand Trunk Railway between Port Huron and Detroit. 1863 Employed as a telegraph operator traveling through the South and Midwest. 1867 Returned to Port Huron. 1869 Patented his first invention -- the Electrical Vote Recorder. Moved to New York City. Started a business manufacturing telegraph equipment. Invented the Universal Stock Ticker. Opens first factory and lab in Newark, NJ. Married Mary Stilwell. Received a patent for paper ticker tape. 1874 Developed a quadruplex system which changed the telegraph industry. 1876 Established a laboratory at Menlo Park, New Jersey. Received patents for the mimeograph machine and electric pen. 1877 Invented a carbon button transmitter, for use in the telephone. Invented the phonograph, which he believed to be his most original invention. 1878 Founded the Edison Electric Light Company. 1879 Invented the first practical incandescent electric light bulb. Demonstrated it to the public by lighting Christie Street on December 31st. 1880 Discovered the Edison Effect which would become the foundation of the field of electronics. 1881 Began mass production of light bulbs and electric parts. 1882 Established the Pearl Street Central Power Station in New York, the first commercial electric power plant. 1883 Edison Illuminating Company began building municipal power plants. 1884 Edison's wife, Mary Stillwell, died at 29. 1885 Received first patents on wireless telegraphy. 1886 Married Mina Miller. 1887 Moved into West Orange Laboratory 1889 Consolidated many of his separate companies into the Edison General Electric Company. Invented the kinetograph, forerunner of today's motion picture camera. 1892 Edison General Electric Company merged with Thomson-Houston Company to become the General Electric Company. At this point, Edison is out of the electrical business. 1894 Introduced the Kinetoscope to the public by hosting the first commercial showing of a motion picture. 1896 Invented the fluoroscope but decided not to patent it because of its tremendous usefulness in medicine. 1900 Invented the nickel-iron-alkaline storage battery. 1900 Began construction of the Edison Cement Plant. 1902 Made improvements in cement so that it could be used in major construction. 1909 Perfected the nickel-iron-alkaline storage battery. 1911 Formed Thomas A. Edison, Inc. 1912 Produced the first talking motion picture. 1915 Named President of the Naval Consulting Board. Produced several military-related inventions during World War One. 1928 Received the U.S. Congressional Medal of Honor for career achievements. 1929 October 21st, Re-enacted the invention of the incandescent light bulb to celebrate its 50th anniversary. 1931 Died on October 18th at age 84.
Fairfax, Virginia
Seller Since 1995

---
Payments Accepted:
Item Details:
Category
Coins & Currency
Dimensions
Width: 0 inch
Height: 0 inch
Depth: 0 inch
Weight: 0 pound
Condition
See Description
Items Similar To "Edison Illuminating Company of St. Louis 1890's"