Dr. Pepper Company - Colorado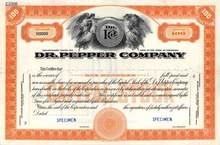 Click thumbnails for expanded view.

Beautifully engraved SCARCE SPECIMEN certificate from the Dr. Pepper Company. This historic document was printed by the American Banknote Company and has an ornate border around it with a vignette of the company logo between two allegorical women.
Certificate Vignette DR PEPPER COMPANY. The Dr Pepper Company was officially incorporated on July 6, 1923, in Dallas. The company markets fountain syrups and sells soft-drink concentrates to independent franchised bottlers. These licensed bottlers then add sweeteners and carbonated water, package the result, and sell the finished product in the surrounding market. In the mid-1980s Dr Pepper's products were Dr Pepper, Sugar Free Dr Pepper, Sugar Free Pepper Free, Pepper Free, and Welch's soda flavors. Dr Pepper, with a 6.9 percent market share, was the nation's fourth largest soft drink company in 1983. Dr Pepper was first made in Waco, Texas, in 1885. Wade B. Morrison, owner of Morrison's Old Corner Drug, employed a pharmacist named Charles Courtice Alderton, who, when not filling prescriptions, often served soft drinks to customers. Alderton enjoyed experimenting with various combinations of fruit extracts and sweeteners. One combination, later to become Dr Pepper, proved enormously popular with drugstore patrons. As the popularity of the beverage grew, the residents of Waco urged Morrison to name the drink. Morrison named the beverage after Dr. Charles T. Pepper, a physician and pharmacist for whom Morrison had worked in Rural Retreat, Virginia. The trademark employed a period after Dr until 1950. As the consumption of Dr Pepper increased, Morrison's drugstore could no longer produce a sufficient quantity of the beverage. In an effort to satisfy the demand, Morrison, along with Waco beverage chemist Robert S. Lazenby, started the Artesian Manufacturing and Bottling Works in 1891. On September 8, 1898, the Southwestern Soda Fountain Company of Dallas purchased the rights to produce and sell Dr Pepper fountain syrups. On September 25, 1902, Southwestern Soda Fountain changed its name to Dr Pepper Company. Circle "A" Corporation, which purchased Artesian Manufacturing and Bottling Works in 1920, was the only bottler of Dr Pepper concentrate. On June 12, 1923, because of rising commodity prices and high bottling taxes, Circle "A" Corporation went bankrupt. On July 6, 1923, in Dallas, the remnants of the old Dr Pepper Company and Circle "A" Corporation officially incorporated as the Dr Pepper Company. Lazenby's son-in-law, John B. O'Hara, was named general manager of the firm. In these early years, the struggling firm developed a small but loyal following in the South and Southwest. An important 1963 district court ruling enabled Dr Pepper to expand when the United States Fifth District Court of Dallas declared that Dr Pepper was not a cola. This ruling allowed independent bottlers to carry Dr Pepper along with Pepsi-Cola or Coca-Cola, since bottlers could now carry Dr Pepper without violating their franchise contracts, which state that bottlers are not permitted to bottle competing brands. Through close personal contacts and cooperative promotional efforts, Dr Pepper aggressively courted independent bottlers. From 1968 to 1977, under the guidance of Chief Executive Officer Woodrow Wilson Clements, sales increased from $41.9 million to $226.8 million. In the same period net earnings jumped from $4.1 million to $20.3 million. As the 1970s drew to a close, however, Dr Pepper's fortunes declined. First, the company incurred tremendous debts in its acquisition of bottling plants and purchase of Canada Dry in 1982. Second, as market growth leveled off, the soft drink industry became increasingly competitive. As much larger Coca-Cola, PepsiCo, and Seven-Up (the last owned by Phillip Morris) increased advertising expenditures, debt-ridden Dr Pepper struggled to hold its own. From 1980 to 1983 the Dr Pepper brand's market share declined from 5.5 percent to 4.9 percent. Third, the rapid brand proliferation, begun in 1982 by Seven-Up with Like Cola, pushed Dr Pepper off the grocer's shelves. Fourth, in an effort to meet other soft drink companies' advertising efforts, under President Chuck Jarvie Dr Pepper concentrated primarily on nationwide advertising and ignored independent bottlers' needs. Independent bottlers thus no longer pushed Dr Pepper with the same zeal. Though sales increased from $370.6 million in 1981 to $516 million in 1982, the increase was largely attributable to the purchase of Canada Dry. In 1982 earnings declined to $12.5 million, down from $29.9 million in 1981. The company reported earnings of $21.6 million in 1983, still below the 1981 figure. In late 1983 Dr Pepper began a search for a buyer, preferably a large conglomerate, to increase its competitiveness in the soft drink industry. Because of the highly competitive nature of that industry and Dr Pepper's poor cash position, few companies showed interest in the firm. In late 1983 Forstmann and Little, a New York investment-banking firm, offered twenty-two dollars a share for Dr Pepper. This deal, using primarily borrowed funds, involved buying out existing shareholders, refinancing Dr Pepper's debt, and retaining the company's top management. At about the same time, another suitor entered the picture. Castle and Cooke, a large food producer based in Honolulu, wanted Dr Pepper. With Dr Pepper, Castle and Cooke would be able partially to offset volatile earnings swings caused by fluctuating commodity prices. Unable to obtain sufficient financial information from Dr Pepper, however, Castle and Cooke's investment group withdrew its offer of twenty-four dollars a share. On February 28, 1984, Dr Pepper shareholders accepted the Forstmann and Little offer, and the company went private. Since the buyout, the company has sold a majority of its fixed assets. Canada Dry was sold for about $175
Fairfax, Virginia
Seller Since 1995

---
Payments Accepted:
Item Details:
Category
Coins & Currency
Dimensions
Width: 0 inch
Height: 0 inch
Depth: 0 inch
Weight: 0 pound
Condition
See Description
Items Similar To "Dr. Pepper Company - Colorado"