Don Wynn Original Oil on Canvas Painting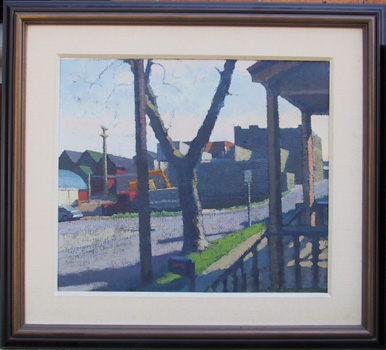 Artist: Don Wynn
Title: Untitled 1
Year: Circa 1990
Medium: Oil on Canvas
Size: 22" x 24"

DON WYNN [1945 - ]

The representational painter Don Wynn has had a long and diverse exhibition history, starting in 1964 with his first New York City solo show. Often allusive and autobiographical, his work is an amalgamation of traditional and contemporary approaches, with emphasis on highly articulated surface textures. Many of the intriguing images in these paintings derive from memory and imagination, which results in an inventive use of natural form and a blending of allegory with experience.

Mr. Wynn's work first received international recognition in the Whitney Museum's landmark Twenty-Two Realists exhibition in 1970. In 1995, the Metropolitan Museum of Art acquired a Wynn oil for their Twentieth Century Collection. He has been reviewed in the New York Times, Art News, Arts, the New Yorker, Art International and many other publications and is included in all major fine arts reference volumes in the USA and abroad, including Who's Who in American Art.For a complete career summary, go to the Artist Resumé link above or contact the artist.

Personal: Born in Brooklyn, NY, 1942. Attended public schools, NYC. B.F.A., Pratt Institute, 1967. M.F.A., Indiana University, 1969.

Fellowships/Grants/Awards: Art Association of Indianapolis; Elizabeth T. Greenshields Memorial Foundation, Montreal; Fine Arts Work Center, Provincetown; Hofstra University; Indiana University; New York State Creative Artists Public Service Program; Pratt Institute; and others.

Visiting Artist/Guest Faculty: Art Institute of Chicago, Eastern Michigan University, Moore College of Art,Ohio University, Skidmore College, State University of New York, Yale University, and others.

Selected Solo Exhibitions

A. M. Sachs Gallery, NYC; Albany Institute of History and Art; Alice Simsar Gallery, Ann Arbor; Allentown Art Museum; Alpha Gallery, Boston; Artists' Space, NYC; Casoff-Henry Gallery, NYC; Center for Music, Drama, and Art, Lake Placid; Crandall Public Library, Glens Falls, NY; Durham-Ziff Gallery, NYC; Editions Ltd. Gallery, Indianapolis; Gallery 38 East, NYC; Hillside Gallery, Tokyo; Hudson Walker Memorial Gallery, Provincetown; Indiana University Museum of Art; Kintetsu Gallery, Kyoto (Japan); Maibara Industrial and Cultural Center, Shiga (Japan); Nina Freudenheim Gallery, Buffalo; Robert Schoelkopf Gallery, NYC; Southern Vermont Art Center, Manchester;The Adirondack Museum; The Arnot Art Museum; The Chatauqua Institution;The Kemerer Museum; Tokyo American Club, Tokyo; Xochipilli Gallery, Birmingham (MI).

Selected Group Exhibitions

New York City: Whitney Museum of American Art; Allan Frumkin; Coe Kerr; Parsons School of Design; Pratt Graphic Arts Center; New York Cultural Center; Gerold Wunderlich; Gallery Henoch. Philadelphia: Gross-McLeaf; Philadelphia College of Art; Marion Locks. Chicago: Dorothy Rosenthal; R. H. Love Contemporary. Other U.S.: Delaware Museum of Art; Saratoga Performing Arts Center; Michael C. Rockefeller Arts Center; XIII Olympic Winter Games; J. B. Speed Museum; Georgia Museum of Art; Canton Museum of Art; Herron Museum of Art; Galerie Simonne Stern, New Orleans.

Europe: Galerie Richard Hartmann, Munich; Galleria Il Fante Di Spade, Rome; Wiesbaden Kunsthalle. Tokyo, Japan: Kawakami Gallery, Bokushin Gallery, NHK (Japan National Broadcasting) Gallery, Dentsu Gallery, Nikken Gallery.

Partial List of Collections

Albany Institute of History and Art; Ameritech Corporation/Michigan Bell; Amis Company, Ltd., Tokyo; Crow Family Holdings; Ford Motor Company; Government Risk Insurance Corporation; Great Lakes Bancorp; Hokkaido Hotel Group, Ltd., Sapporo; Indiana University Museum of Art; Japan National Broadcasting, NHK; Japan Telephone, NTT; Manufacturers and Traders Trust Corporation; Massachusetts General Hospital; Nikken, Ltd., Tokyo; Ohio University; Plattsburgh Government Center; Pratt Institute; St. Lawrence University; The Adirondack Museum; The Flickinger Corporation; The Hilton Corporation; The Metropolitan Museum of Art; The Midlantic National Bank; The National Archives; The New York State Museum; The Newark Museum; The Okumura Collection, Kyoto; The Rich Corporation; The Smithsonian Institution; Upstate Medical Center, Albany.
Dealer accepts: Check, Authorize.Net, Cash, PayPal
Shipping: Negotiated with Seller
Items Similar To "Don Wynn Original Oil on Canvas Painting"