Daniel Marshall S/N Print, Pears & Apples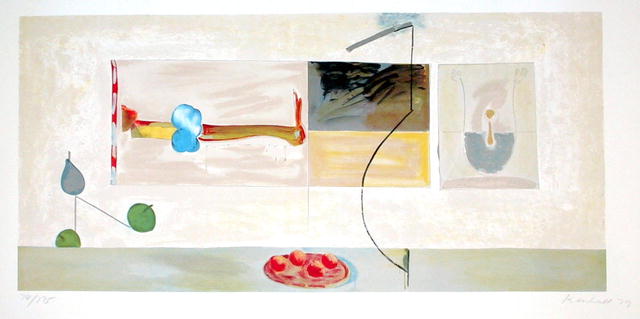 Artist: Daniel Marshall,
Title: Pears & Apples
Year: 1979
Medium: Lithograph
Edition: 175
Paper Size: 37.5" x 25.5"

An Englishman, Daniel Marshall was born in London in 1930. He received a classical education that inciuded the Fine Arts. As a traveller, Marshall lived in Brazil and Chile before taking up residence in New York City where he now resides.
Marshall's work reflects an imagination that spontaneously summons up the unexpected and humorous. Marshall's metaphor for life, the "Duck Pond,"is representative of his philosophy which includes a beginning, a middle, and an end, with the Duck Pond as progenitor of life, nurturing the atmosphere of mysticism and the miracle of everyday life.
Marshall's female figures take on poses and imaginative expressions around a chair that becomes a stage where the duck plays its representational role. Marshall gives us his very personal visions and fantasy with a child like candor and brilliance. Beauty, grace and intelligence unite in these celebrations of sensuality and sensitivity. Marshall's relaxed approach presents a poetic allegory where line and color replace the verbal background. The paintings are maps to internal constructions of visions that most are blind in expressing. Other contemporary painters are impressive in their range but rather stolid when contrasted to Marshall's insightful and humorous view of the human dilemma. Marshall's work is important and significant for these timely qualities of style. You can't ignore the life in Marshall's paintings. It's an amorphous race between escaping forms in the symbols of the rabbit or the duck. The forms dance and reintegrate somewhere on the outerreaches of our dream reality. At the point of their dissolving they tickle some sluggish need to stir.
The lines in Marshall's work become the life of the work. The boundaries of individual symbols remain more deeply determining a form that remain traced and suspended on the mind long after one has looked away Marshall's work is disciplined along simplistic lines which leave ample room for the viewer to participate in the spiritual life of the paintings. His overriding concern is that the work be entertaining and unrestrained by over analysis.
The Duck Pond series culminates with an ectastic flowering of mysticism and sensuality Marshall's paintings are equally personal, the work of an artist who has remained true to his vision and it is this knowledge that the view enriches that gives Marshall's work a breathtaking mystery.
ONE-MAN SHOWS 1953 Sala Del Pacifico, Santiago, Chile 1955 Sala Del Pacifico, Santiago, Chile 1958 Galeria Seta, Sao Paulo, Brazil 1961 Galeria Profili, Sao Paulo, Brazil 1965 Galeria Profili, Milan, Italy 1967 Galeria Profili, Milan, Italy 1969 Galeria Profili, Milan, Italy 1973 Irving Galleria, New York 1976 Galleria Arnaud, Paris 1978 The Buecker Galleria, New York PUBLICATIONS In the last five years, Marshall has illus- trated over 10 books, including "Kivi" for William Morrow and recently, for Harper & Row, "From a Monastery Kitchen" and the "Dream Theatre."
Dealer accepts: Authorize.Net, Check, PayPal, Cash
Shipping: Negotiated with Seller
Items Similar To "Daniel Marshall S/N Print, Pears & Apples"