Daimler - Benz Mercedes December 1941 WWII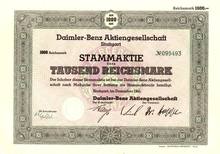 Click thumbnails for expanded view.

Beautifully engraved Certificate from the famous Daimler - Benz issued in December 1941 from of Germany. This historic document and has an ornate border around it with a underprint of the famous Mercedes Benz Logo. This item is has the printed signatures of the company's officers and is over 62 years old. It also has an embossed Mercedes Seal on the certificate. This certificate was issued the same month the United Stated entered WWII fighting against Germany, Japan and Italy.
Certificate Underprint of Logo During World War II, millions of Jews, Roma (Gypsies), Poles, other Eastern Europeans and people of other nationalities and religions were forced to work under inhuman conditions in Nazi industry as slave laborers. Many did not survive. A final agreement wasreached in which the government and certain industries in Germany will equally finance a $7.5 billion (U.S.) fund which will be dispersed to victims of Nazi persecution. Some estimates are: A total of 8 to 12 million slaves worked for the Nazi war machine. 1.5 to 2 million have survived to 1999. The average slave worked for about 7,000 hours over a two year period. 10 The average age of a survivor in 1999 was almost 80. A formal claims resolution mechanism will be launched in mid 2000-JAN. Payments are expected to begin by the end of the year 2000. During 1998 a number of U.S. lawsuits were launched by survivors against a variety of German companies, including Audi, BMW, Daimler-Benz , Siemens, Leica Camera and Volkswagen. The matter came to a head in 1998 when the largest bank in Germany, Deutsche Bank, made a bid of $15 billion U.S. to take over Banker's Trust in New York. New York state authorities threatened to block the takeover unless the slavery compensation issue was satisfactorily resolved. For years, Chancellor Helmut Kohl had maintained that Germany companies which used slave labor should not have to compensate their victims. This was because the companies were merely following Nazi government orders that they employ slave labor. That argument is similar to one raised at the Nuremberg trials shortly after Word War II: that an officer was is not responsible for mass murder because he was simply following the orders of his superior officers. The court rejected that line of reasoning. After the 1998 elections, the newly elected government reversed this stance and pledged to set up foundations to handle financial compensation. 1 Twelve German industrial giants (Allianz, BASF, Bayer, BMW, Daimler Chrysler, Degussa-Huels, Dresdner Bank, Fred Krupp, Hoesch Krupp, Hoechst, Siemens, and Volkswagen) met with German Chancellor Gerhard Schroeder in 1999-FEB. They later announced the establishment of a fund to pay their victims. News reports speculate that it might have amounted to about 3 billion German Marks, or 2.6 billion US dollars. 2 Chancellor Schroeder saw the fund as a win-win situation for both surviving Nazi victims and German industry. He said: "for those [victims] in the final years of their lives, it will...provide them with a little more means that they would otherwise have had." German industry will probably save money because the companies would expect to be given immunity from future class-action lawsuits. Paying into a multi-billion dollar fund is probably cheaper than meeting financial awards by the courts. The History of Mercedes Genesis, insofar as the practical automobile is concerned, started with Gottlieb Daimler and Karl Benz. That was in 1886, when these two men each successfully harnessed the power of a lightweight internal combustion engine to a vehicle that would travel on land. Daimler and Benz worked just 60 miles apart, Daimler in the Stuttgart suburb of Bad Cannstatt, and Benz in Mannheim. Yet they never met, and their companies were not merged until the mid-1920s, a quarter-century after Daimler's death and long after Benz ceased to take an active role in his company. The stage for their accomplishments was set by others: the wheel was invented back in antiquity, steel was being manufactured in the middle of the 19th century, and crude oil in commercial quantities was discovered in 1857. A railroad spanned North America by 1869, and Nikolaus Otto, another German, invented the four-stroke internal combustion engine in 1873. The idea was obvious. But Daimler and Benz were the ones who made the concept of individual transport work. They built the first motorcycle, the first bus, the first truck and the first diesel powered truck; they built the first internal-combustion powered boat, and Daimler's engines were in the first successful air-craft that was controlled by anything other than the winds. Though unaware of it, they also laid the foundations for the Daimler-Benz AG, both in terms of the various directions they pursued and in the name they established for quality and performance. Even at the beginning, the reputations of Daimler and Benz spread quickly. As the 19th century was drawing to a close, many nations were in the middle of a shift from an agrarian to an industrial economy, the need for their ideas was urgent, and their inventions were sought by companies in other lands. Daimler, the more visionary of the two, was especially active in this field. Two of his French licensees, Panhand et Levassor and Peugeot, formed the basis for the French auto industry. Daimler's first license for North America was issued in 1888; eight years before Henry Ford built his Quadricycle. William Steinway, the American piano manufacturer, was in Germany and heard about Daimler's engines. He paid a visit, was treated to a ride, and liked what he saw. Daimler liked the idea of having an American licensee, and on October 6, they signed an agreement. Back home, Steinway concentrated on selling engines for streetcars and boats. Steinway died in 1896, and the automotive part
Fairfax, Virginia
Seller Since 1995

---
Payments Accepted:
Item Details:
Category
Coins & Currency
Dimensions
Width: 0 inch
Height: 0 inch
Depth: 0 inch
Weight: 0 pound
Condition
See Description
Items Similar To "Daimler - Benz Mercedes December 1941 WWII"