CZECH 1920's "VENETIAN" GLASS FLORAL BROOCH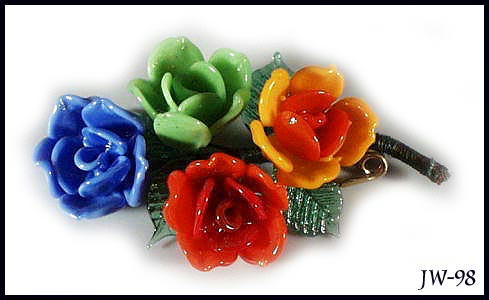 $49.00
Quantity available: 1
"Venetian" style multicolor opaque glass bouquet brooch composed of freehand flame/lampworked flowers. Each glass flower leaf is worked onto a wire. The wires are then twisted into a stem to form a flower. The stems are twisted into a bouquet. The bouquet stem is tightly wrapped around with color silk thread and pin is attached to complete the brooch. This type of jewelry originated in Bohemia (Gablonz region) in the early 1800's and is extremely SCARCE - very little survived because of its fragility. We are native Czech born and travel to our "homeland" frequently. Over the last 25 years we were fortunate to acquire some of these "treasures" from the descendants of the highly skilled Artisans, who made this type of jewelry 70-80 years ago. Comparable type of this Art is listed in the book "Collectible Bohemian Glass - Volume II (Pg.85, #1). Pictured 2 " flower is from the Collection of Jablonec Museum of Glass and valued between $250-$300!!! Don't pass this one and enjoy EXQUISITE piece of "lampwork" glass artistry of the past. Attached round metal tag stamped "Czechoslovakia" in circle. Gablonz, Czechoslovakia circa 1920, MINT condition, 4 flower bouquet brooch, 2 1/4 inches.
Dealer accepts: PayPal
Shipping: $5.15
Items Similar To "CZECH 1920's "VENETIAN" GLASS FLORAL BROOCH"