Commodore International Limited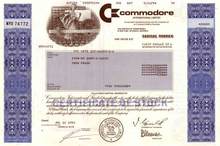 Click thumbnails for expanded view.

Beautifully engraved uncancelled certificate from the Commodore International Limited issued in 1994. This historic document was printed by the American Banknote Company and has an ornate border around it with a vignette of an allegorical woman stepping over a computer keyboard with an abacus and computer tape in the background. This item has the printed signatures of the Company's Chairman ( Irving Gould ) of the Board and Secretary. This is the first time we have had this certificate for sale.
Certificate Vignette Commodore International Limited was founded in 1958 by Jack Tramiel, a typewriter repairman from the Bronx, New York. It received much of its financing from Canada's Atlantic Acceptance Corporation and quickly grew to include typewriter manufacturing. However, Atlantic went bankrupt in 1965, threatening to take Commodore with it. To save his company, Tramiel began hunting for a new source of funds. He found it in Irving Gould, a Canadian venture capitalist, who supplied the ailing company with $400,000 in exchange for 17% of the company and Tramiel's pledge of all the receivables. Price War and the Lean Years By the 1970's, Commodore Business Machines had grown further, branching into calculators and other office machinery. Business boomed until Commodore lost in a brutal price war with Texas Instruments. Commodore had been assembling pocket calculators with TI microprocessors. The chips cost Commodore about $50 per calculator, and the final product sold for about $100 each. In response, TI came out with a competing calculator of its own manufacture using the same chip that sold for only $49. Commodore lost $4 million on sales of $56 million and nearly sank. Tramiel learned a valuable lesson. In 1976, Commodore bought MOS technologies, a failing semiconductor manufacturer, for $800,000, ensuring that it would no longer be dependent on outside vendors for needed parts. Growth Under Tramiel's deliberate guidance, Commodore grew into a $1 billion company, growing sevenfold from 1981 to 1984. It was one of the largest suppliers of home computers in the world. Commodore 64 Era By early 1982, Commodore had five new products in development, one of them being the infamous Commodore 64. Believing he had a winner, Tramiel took a gamble. He sidelined the other products and built up massive inventories of the C64. Then, he flew in the face of the computer industry by enlisting the same mass merchandisers (K-Mart, Toys "R" Us, Target, and others) that sold the Vic-20 to market the C64. By doing so, he proved that computer buyers didn't need to rely on the hand-holding of an elite class of computer-literate salespeople and their specialty store prices. The C64 was rushed to market with haste bordering on recklessness, and about 1/4 of the machines shipped didn't work. Commodore's solution was a no-questions-asked policy on the exchange of defective machines. After several months, the defect rate had been whittled down to a more acceptable 4-5%. By 1984, about 4 million Commodore computers were in use around the world, and 300,000 more were being sold per month. However, Commodore's leadership believed that market saturation was still a long way off, since only about 6% of U.S. households owned computers. This was far less than the 20-25% that owned video game players during the peak of the home video game craze. Tramiel Leaves Tramiel had been known for his iron-fisted style of management. He was involved with every aspect of the company and anything or anyone he didn't like was changed or removed. This led to a class action suit in November of 1983, which charged that Commodore failed to disclose information about its operations and did not build a strong management team. According to a statement released in January of 1984, Tramiel said, "personal reasons prevent my continuing on a full-time basis with Commodore." Gould recruited Marshall F. Smith from Thyssen-Bornemisza NV, a conglomerate based in the Netherlands Antilles, to replace Tramiel. At the time of Tramiel's departure, the home computer market was failing, causing Mattel and Coleco to leave the business. Another company that decided to leave the industry was Warner Communications, which sold Atari to the newly unemployed Tramiel for a pittance. Shortly thereafter, a stream of Commodore executives followed him. Smith In an effort to make Commodore profitable, Smith took to downsizing, cutting the payroll by more than 45%. Though the company had an impressive $339 million in 1985 holiday revenues, it made only $1 million for the quarter after paying off about 1/4 of its bank debt. Commodore suffered through Fiscal Year 1985, losing $237 million, and getting into trouble with its creditors. The banks granted a much- needed one-month extension on Commodore's loans, and, with the success of the company's second-best Christmas sales ever behind them, Commodore defied the Gods of Bankruptcy yet again. The Rattigan Years In March 1986, Thomas J. Rattigan replaced Smith as Commodore's CEO. Rattigan was hired in April of 1985 with the understanding that he would replace Smith, who remained on as a director. Rattigan's objective during the first few months of his leadership was clear - cut costs in order to stabilize Commodore's position, allowing it to rebuild. Once again, the payroll was trimmed from top to bottom, and three plants were closed in five months. New controls were added in the finance department to prevent the sloppy reporting that had undermined Smith's leadership. Commodore continued to sell respectable numbers of its $150 C64 throughout 1986. The Commodore 128, a successor to and more powerful machine than the C64, was selling for $300 at the time, also helping to keep the company afloat. Rattigan's policies worked. By March of 1987, Commodore had caught up on its loans and posted a $22 million earning in the quarter ending Decembe
Fairfax, Virginia
Seller Since 1995

---
Payments Accepted:
Item Details:
Category
Coins & Currency
Dimensions
Width: 0 inch
Height: 0 inch
Depth: 0 inch
Weight: 0 pound
Condition
See Description
Items Similar To "Commodore International Limited"