Celluloid Dolls, Toys & Playthings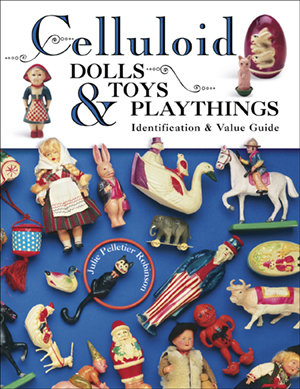 This book is jam-packed with historical information and photographs about the development, production, and collectibility of celluloid dolls, toys, and playthings. Written by the author of the Celluloid Collector's Reference & Value Guide, this book features detailed information about manufacturers and designers that will help collectors identify the origin of their toys and understand more thoroughly the value of their collections. Two informative chapters, Caring for Your Collection and Repairing Damaged Toys, include detailed descriptions of the unique properties of celluloid and step-by-step illustrated instructions on the cleaning and repair of damaged toys, including restringing limbs, repairing split seams, and fixing dents. Celluloid Dolls, Toys & Playthings has a wide variety of color illustrations from the finest collections around the globe. It gives current market values based on supply and demand, taking into account the influence of the Internet in today's collecting market.
Dealer accepts: PayPal
Shipping: Negotiated with Seller
Items Similar To "Celluloid Dolls, Toys & Playthings"