"Canal" giclee on paper L.E. of Tager Jan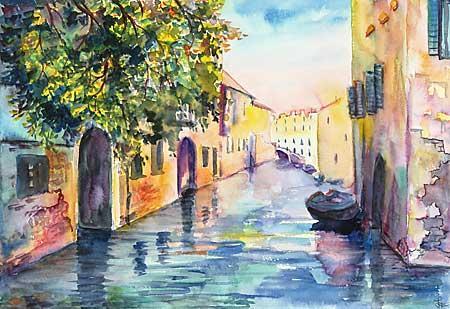 Giclee on paper Limited Edition from original watercolor of Tager Jan "Canal".
Giclee is available in a limited edition of 100 on paper, measures 20 by 16 inches (50x40cm). Each giclee has title and number on a back. Original price of this giclee is 500 $! You can buy just now only 250 $! We give this great discount for holiday gifts. Giclee will be delivery unframed in protective tube. Shipping through USPS. Shipping/Handling: $15.00 USD Insurance: $1.00 USD What is Giclee: Giclee printing is widely recognized as being the highest quality of all existing fine art printing methods. Many museums of world have made Giclee editions a permanent part of their collections. Our giclees are created from original paintings and watercolors, using the finest quality ink and canvas and paper. These inks can assure the art image on Giclee to last for 100 years. About artist: Tager Jan (1954 - 2005) The Dutch aquarellist Jan Tager has travelled all over the world in search of a perfect landscape. We had possibility to redeem and present to your attention his picturesque series «Greek voyage». Colourful watercolors by Jan Tager bewitch us by the reliability and figurativeness. «That's... I was on this small street also... » - it would be desirable to tell, looking at his landscape of the Greek cities and villages. Watercolor is a very whimsical technics. Especially in that case when the artist tries to achieve not only real impression of appearance, but impression of mood of the seen. It is the most difficult kind of painting, and Jan Tager copes excellent with this problem - we can see it in his watercolors. The paintings by Jan Tager in the watercolor technic amaze with a subtlety and lyricism. His painting differs riches of tone, effect of ease and shrillness. Jan Tager considered that art, in particular painting, is an author's vision and reality refraction and if the artist does not add something "his", it is not the art, but masterful copying of the seen only. On the other hand, if the artist can't transfer what he see on a canvas or a paper, he isn't an artist... But the real skill reached by the artist consists in alloy of the reality and absoluteness. So the painting of Jan Tager is the masterly balancing on the most thin side separating the reality from illusion, the ordinary from a fairy tale, the validity from magic. As a result the artist creates a real-illusory world, the absolutely tremendous image, the absolutely recognised by the spectator. His painting in the watercolor technic is the real painting, instead of drawing. It is the most thin art of perfection... *** You can see and buy this original watercolor in our gallery "Gallery-2000". Price of thу original watercolor is 9 500 $.
NY, NY,
Seller Since 1999
Dealer accepts: 2Checkout, PayPal, Cash
Shipping: USPS Priority Mail