Ballet Theatre! From 1940s! Igor Youskevitch,A.Alonso!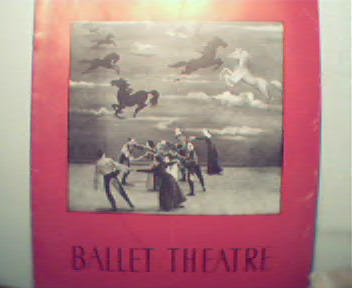 In its Thirteenth Year, Is the Foremost American Ballet Company, Directed by Lucia Chase and Oliver Smith, List of members from the company-Alicia Alonso, Igor Yousekvitch, Norma Vance, Paula Lloyd, Jenny Workman, Liane Plane, Scot Douglas, Irma Grant, William INglis, Christine Mayer, Joan Vickers, Ruth Ann Koesun, Lillian Lanese, Kelly Brown, Ferdnand Nault, Enrique Martinez, Lila Popper, Rochelle Balzar, Charterine Horn, John Kriza, Eric Braun, Michael LLand, Dorothy Scott, Jack Beaber, Vernon Lusby, William Weslow, Robert Hanlin, Beverly Barsanti, Mary Ellen Moyan, Eirk Bruhn, ROyes Ferandes, Angela Velez, Barbara Lloyd, Isabel Mirrow, Ducle Wohner, WIlliam Burdie, Lida Koehrng, Revay Anderson, Ballet Master Edward Canton, Repetory List Includes; Aleko, Apollo, Billy the Kid, Bluebeard, Caprichos, Carnaval, Ciro de Espana, Constantia, Dark Elegies, Designs with Strings, Facsimile, Fall River Legend, Fancy Free, Gala Performance, Giselle, Helen of Troy, Interplay, Jardin aud Lilas, Judgment of Paris, L'Amour et Son Amour, La Fille Mal Gardee, Je Jeune Homme et La Mort, LEs Demosielles De La Nuit, Les Patineurs, Les Sylphides, On Stage Pase De Quarter, Peter and the Wolf, Petrouchak, Pillar of Fire, Princess Aurora, Rodeo, Romeo and Juliet, Schumann Concerto, Swan Lake, Tally Ho, Til Eluenspeigel, Theme and Variations, Thief who Loved a Ghost, Three Virgins and a Devil, Undertow, Waltz Academy, Photo of Igor Youskevitch, Alicia Alonso in Giselle, Biographical Notes, John Kriza in Thief Who Loved a Ghost, Mary Ellen Moylan in Swan Lake, Norma Vance in Design with Strings, Ruth Ann Koesun in Princess Auroa, Eric Braun in Romeo and Juliet, Lillian Lanese in Circo De Espana, Eric Bruhn in Princess Aurora, Paula Lloyd in Consstantia, Michael LLand in Nutcracker, Jenny Workman in Rodeo, Angela Velez in Rodeo, Kelly Brown in Billy the Kid and Doroth Scott in Circo De Espana, Has very little creaseing, Overall Good Condition! [Box 4670] - [Item 121505]
Dealer accepts: PayPal, Money Order
Shipping: $4.50
Items Similar To "Ballet Theatre! From 1940s! Igor Youskevitch,A.Alonso!"