Armour and Company ( Famous Food Company )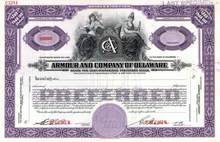 Click thumbnails for expanded view.

$79.95

---

Item Not Available
Beautifully engraved SPECIMEN certificate from the Armour and Company of Delaware. This historic document was printed by the American Banknote Company in 1923 and has an ornate border around it with a vignette of allegorical women on both sides of the company logo. This item has the printed signatures of the Company's President and Secretary and is over 79 years old.
Certificate Vignette Armour and Company was a big meatpacking company of Chicago. In 1891, the company was the largest meat packer in the country and controled 30 percent of Chicago's grain supply; under the brand name Veribest, Armour manufactured vegetable, soup, sauce and meat products. Armour and Company was acquired by the Dial Company in 1973. The Dial Corporation is one of America's leading manufacturers of consumer products, including Dial soaps, Purex laundry detergents, Renuzit air fresheners and Armour Star canned meats. Dial products have been in the American marketplace for more than 100 years. Company History 1868-1900 1868 — An eyewitness to the California Gold Rush and its aftermath, Philip Danforth Armour returns to the Midwest and strikes it rich - processing food for the prospectors. Today we offer consumers Armour® Star canned meats. 1880 — A vast deposit of borax, nature's magic water softener and cleanser, is discovered in Death Valley, Calif. Soon teams of 20 mules are pulling 12-ton wagons across 165 miles of hot desert to the railroad. Today we market it as 20-Mule Team® Borax. 1888 — Armour enters the soap business, producing a laundry bar called Armour Family Soap. 1913-1930 1913 — To keep customers happy, peddlers of America's first aluminum cookware perfect a scouring pad that combines steel wool, jeweler's rouge and soap. They call their brilliant idea Brillo. 1922 — The first jug of Purex Bleach, to be followed by a superior phosphate-free laundry detergent, is formulated in the garage of a house in Los Angeles. Today, Purex® is the reigning value detergent and Number 2 brand. 1930 — Backed by decades of research at his clinic in Springfield, Mass., John H. Breck, Sr., introduces a premium shampoo pH-balanced for normal, oily and dry hair. In 1936 Roma Whitney, 14, makes her poster debut as America's first Breck Girl. Today Breck products are sold primarily in Mexico. 1948-1964 1948 — Meatpacker Armour prunes a list of 700 names and selects "Dial" to identify the world's first antibacterial deodorant bath soap. During an August heat wave, Dial is advertised in the Chicago Tribune on perfumed, four-color pages promising users 24-hour protection from body odor. 1953 — The slogan "Aren't you glad you use Dial? Don't you wish everybody did?" establishes Dial as the nation's leading antibacterial soap. 1963 — A favorite old-time convenience snack, the Vienna sausage, is packaged in a flavor-protecting, pop-top aluminum can. Fishermen form a Vienna sausage cult of tackle box folklore.Today Armour® Vienna's lead the market. 1964 — Dial opens the largest, most modern soap making plant in the world on an 11-acre site 38 miles west of Chicago in Montgomery,IL. 1973-1988 1973 — Dial dedicates the world's largest, most modern meat canning plant at Fort Madison, Iowa, which produces the leading brand of canned meats - Armour Star. 1973 — Tone®, the only bath bar containing cocoa butter, is introduced. 1976 — The Research & Development Lab, a world-class food and consumer products laboratory, opens in Scottsdale, Ariz., and quickly earns a reputation for innovative research and development. Today, with the addition of Accounting and Information Technology, it's known as DTAC (Dial Technical and Administrative Center). 1985 — The Purex® household and laundry product lines are purchased. Acquired in the deal are such familiar brands as Purex and Trend detergents, Brillo soap pads and StaPuf fabric softeners. 1988 — Exclusive rights are bought to make and sell such home pantry staples as 20-Mule-Team Borax all-purpose cleaner, Borateem stain remover and Boraxo powdered hand soap. In the White House sits President Ronald Reagan, fondly remembered as the host of "Death Valley Days" once sponsored on TV by Borax. 1988 — Armour® introduces Lunch Buckets, the first line of microwave cup meals. 1989-1995 1989 — Liquid Dial antibacterial hand soap pioneers a new category in personal hygiene products. Within 10 weeks of its introduction, germ-fighting Liquid Dial® rings up $1 million in sales. 1990 — The sales volume of Breck shampoo and other hair care products purchased from American Cyanamid boosts Dial's annual revenue from all consumer products to more than $1 billion. 1993 — The widely known line of Renuzit air fresheners is purchased by Dial from S.C. Johnson, then revitalized and expanded to swiftly move from Number 3 to Number 2 in its category. 1995 — Nature's Accents, a line of premium skin care and soap products, is created for the Company's largest customer,Wal-Mart. 1995 — Dial acquires ISC (International Soaps and Cosmetics) in Guatemala, a manufacturer of translucent bar soaps. Today ISC makes bar soaps for Dial and specialty bath shops. 1995 — Purex® introduces Baby Soft, a value-priced detergent to launder baby clothes. 1996-1997 1996 — Early in the year the decision is reached to divide The Dial Corp into two independent companies. By mid-August the process is complete and the consumer products business becomes The Dial Corporation, listed on the NYSE as DL. Dial unveils a new identity and strategic plan to guide its growth into the 21 century. 1996 — Renuzit® introduces LongLast AromaSense Candles, entering the growing candle segment. 1997 — Products that don't fit Dial's Strategic Plan are sold or discontinued. Brillo soap pads, and the London, Ohio, plant that makes them, are sold to Church & Dwight. Also p
Fairfax, Virginia
Seller Since 1995

---
Payments Accepted:
Item Details:
Category
Coins & Currency
Dimensions
Width: 0 inch
Height: 0 inch
Depth: 0 inch
Weight: 0 pound
Condition
See Description
Items Similar To "Armour and Company ( Famous Food Company )"