Andy Warhol Vintage Poster, Cantaloupes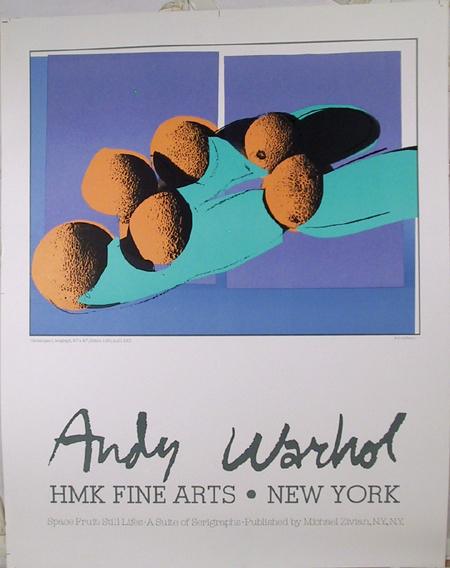 Artist: Andy Warhol
Title: Cantaloupes
Year: circa 1975
Medium: Poster
Size: 29" x 23"


Andy Warhol was born in Cleveland, Ohio, studied at the Carnegie Institute of Technology in Pittsburgh, Pennsylvania, and began his career as a commercial artist. Warhol decided to devote himself to a more serious form of art when friends in the fashion industry expressed a strong interest in American art. He experimented with many techniques before he found that silkscreen was the most desirable medium for his work. Using a combination of the stencil method of screen printing and enlarged reproductions of photographs imposed photographically on the screen, he created large editions of images he had already painted. Part of the idea behind pop art was the proliferation of the image, just like the mass-marketed objects, such as the Campbell Soup cans, that provided the inspiration. Warhol evolved into a portraitist. His Marilyn Monroe and Mick Jagger series, among many others, take America's symbols to the highest personal level. The Jagger series is noteworthy because Warhol introduced elements of colla g e into those prints. Many prominent museums own his work, including the Museum of Modern Art in New York and the Los Angeles County Museum.
Dealer accepts: Check, Cash, Authorize.Net, PayPal
Shipping: Negotiated with Seller
Items Similar To "Andy Warhol Vintage Poster, Cantaloupes"