American Folk Dolls by Wendy Lavitt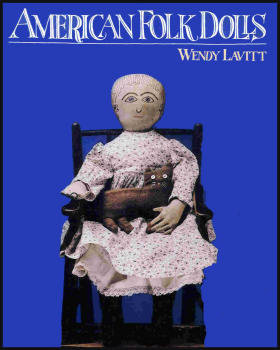 American Folk Dolls - New York, NY, U.S.A.: Alfred A. Knopf Incorporated, 1982 Soft Cover. As New/n/a. First Edition. 8 x 10. ISBN:0394711327. The FIRST book of American Folk Dolls -- 90 photographs, 50 in FULL COLOR. From all across America, from museums and private collections, from attics and country fairs, from families that have cherished them for generations -- here are AMEICAN dolls of the 18th, 19th and early 20th centuries, a wonderful variety of dolls - ALL HANDMADE - dolls fashioned from the humblest materials and radiant with the love that children have lavished upon them. Here are dolls made from clothespins, cornhusks, dried applies, pinecones; dolls made of everything from bedposts to wishbones! Topsy-turvy dolls..Amish dolls in sombre clothing with no faces.. a nut head doll wearing an elegant afternoon dress made of tobacco leaves..and more. -------- A beautiful book with a lively historical & interpretive text. Out of print.. A real treasure for doll collectors and for lovers of dolls and things American!
Dealer accepts: PayPal
Shipping: Negotiated with Seller
Items Similar To "American Folk Dolls by Wendy Lavitt"