American Electric and Manufacturing Company 1890 - Washington DC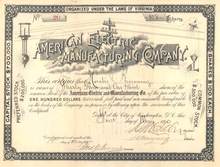 Click thumbnails for expanded view.

Beautifully engraved certificate from the American Electric and Manufacturing Company issued in 1890. This historic document has an ornate border around it with a vignette of the company name in clouds and early power lines and electric lights. This item is hand signed by the Company's President, Treasurer and Secretary and is over 103 years old.
Certificate Vignette Development of telephone service in Venezuela began in 1883 when a representative of Intercontinental Telephone Company of New Jersey, James A Derrom, obtained authorization from the government of General Antonio Guzmán Blanco to install three telephones in Caracas, on a demonstration basis. In 1890, the English company Telephone and Electrical Appliances ( TEA ) became the assignee of the contract, by which time there were 400 subscribers. At the time, the economy was based on agriculture, a situation that continued until the beginning of petroleum exploitation in 1914. In December 1894, the American Electric and Manufacturing Company was contracted to install service for the government. The Venezuelan Telephone & Electrical Appliances Company Ltd ( formerly TEA ) signed an agreement with the government on 21 July 1898 by which relations between the parties were regulated. The Ministry of Transport and Communications (MTC) was created on 25 February 1936, and was originally responsible for administration of mail, communications, and air transport services of a civil and commercial nature. Subsequently it was split, with communications becoming a separate ministry. In 1977 the parts were recombined. Since 1914 Venezuela's constitutions (1914, 1936, 1961) have embodied the principle that all matters related to telecommunications lie in the domain of the State. Thus, the constitution enacted 20 July 1936 conserved, without alteration, the provisions of the 1914 constitution that reserved to the executive branch "all activities related to the mails, telegraphs, telephones, and wireless communications." This has not, however, meant the state actually provided the service directly. Concessions were given private companies, generally foreign, to construct and operate domestic local and long distance service, as well as international service. On 28 July 1936 the Law of Telecommunications was enacted, superseding a 1918 law. However the 1927 Law of Overseas Cablegraphic Communications remained in force until 1940, when a new Law of Telecommunications was enacted. Horatio Browning's obituary Horatio Browning, d. 18 Apr 1904 R22/25 Browning. On Monday, April 18, 1904, at 4 o'clock p.m. at his residence, 1117 6th street northwest,Horatio, beloved husband of Catherine Virginia Browning. Funeral Wednesday afternoon at 2o'clock. Relatives and friends invited. Interment private. The Evening Star, April 19, 1904 An Old Citizen Dead Horatio Browning Passes Away at Age of 72 Was Known as the Oldest Grocer in WashingtonFuneral Tomorrow at 2 o'clock Funeral services will be held tomorrow afternoon at 2 o'clock over the remainsof the late Horatio Browning at his late residence, 1117 6th street northwest,and will be conducted by Rev. Richard P. Williams, rector of Trinity Protestant Episcopal Church. The interment will be in Congressional cemetery and will be private. The honorary pall bearers will be selected from the board of directors of the Central National Bank andthe active pallbearers will be clerks from the store of Browning & Middleton, as follows: A.D.Bond, W.H. McKnight, S.T. Ellis, C.F. Fenwick, C.M. Dorsey and William Fisher. Mr. Browning, who was known as Washington's oldest grocer, died at his home here yesterdayafter a long and painful illness. He had been suffering with rheumatism and since Christmas had been confined to his bed. He was seventy-two years old and is survived by his wife and four children. Mr. Browning until the time he was taken ill was one of the most active business men inWashington. He was president of the Browning & Middleton grocery establishment and since its organization had been a director in the Central National Bank. He was vice president of the bankfor fifteen years, having supervised constructing the building where it was located. It was largely through his influence the bank was established. He was also secretary and treasurer of the Venezuelan Telephone Company , formed here. He was born at Barnesville, Montgomery county,Md., and came to Washington with his parents in his early youth.His business career began as a clerk for George and Thomas Parker, and in 1859 he engaged inbusiness for himself.Several years ago Mr. Browning's claim to being the oldest grocer in the city was disputed by N.W.Burchell, who had also been business here since before the war. It was decided to share the honors, and a day was set to have a dinner to celebrate the distinction. On the very day the dinnerwas to have been held, Mr. Burchell died. Mr. Browning was married in the same year he started his store on Pennsylvania ave. The diseasewhich caused his death was contracted during a fire in his store on November 8, 1902. His wife wasMiss Catherine Virginia Miller, the daughter of Charles Miller, an East Washington merchant. Thechildren are C.T. Browning, Horace Browning, Miss Caddie Browning and Mrs. C. Fran Carr ofHyattsville, Md. He was devoted to his family and benevolent to all about him, ever ready andwilling to do a kindness and advise with the young men.Mr. Browning was a member of St. John's Lodge of F.A.A.M., and of DeMolay Commandery of the Knights Templar.
Fairfax, Virginia
Seller Since 1995

---
Payments Accepted:
Item Details:
Category
Coins & Currency
Dimensions
Width: 0 inch
Height: 0 inch
Depth: 0 inch
Weight: 0 pound
Condition
See Description
Items Similar To "American Electric and Manufacturing Company 1890 - Washington DC"