American Board of Commissioners for Foreign Missions, Morning Star 1866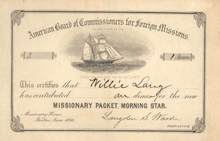 Click thumbnails for expanded view.

Beautifully engraved certificate from the Missionary Packet, Morning Star issued in 1866. This historic document has an ornate border around it with a vignette of a ship the Morning Star ship. This item is hand signed by the Company's Treasurer ( Langdon S. Ward )and is over 136 years old. Below is a memo written to his sailors by Chester W. Nimitz, Admiral, U.S. Navy Commander-in-Chief U.S. Pacific Fleet and Pacific Ocean Areas in First Printing February 1945 It is now a century lacking ten years since the first "Morning Star" sailed from these islands to bring Christianity to the people of the Marquesas and Micronesia. Albert S. Baker has written an interesting account of the "Morning Stars" and of the men who "combined theology with navigation." Those "Morning Stars," all five of them, were on missions of conquest even as we are today. The task of those men was outlined in Honolulu in 1870 at the Hawaiian Evangelical Association, where it was said, as reported by Secretary Clark of the American Board, "Not with powder and balls and swords and cannons, but with the loving word of God and with His spirit do we go forth to conquer the islands for Christ." Today it is our duty to follow the sea-trails of those "Morning Stars," the trails left by those small brigs, barkentines and steamers. Our duty in sailing on a mission of conquest is both fortunate and unfortunate. Fortunate because we know by taking those islands we are liberating a people who again will be able to practice the Christian virtues brought to them by those early missionaries. Unfortunate because we do this work with sword and gun, and swords and guns must bring death for some who go with us on this mission. The days of those "Morning Star" missionaries were hard. They fought their tiny ships through heavy storms and heavy seas — and they had to fight the lassitude of nations governing Micronesian lands to do their work. But on Micronesian islands we have occupied we have seen the enduring evidence of that work. The men who sailed on those "Morning Stars" planted a seed of faith which the years and the cruel strain of Japanese conquest could not wither. We are proud to follow their trails. Chester W. Nimitz, Admiral, U.S. Navy Commander-in-Chief U.S. Pacific Fleet and Pacific Ocean Areas -------------------------------------------------------------------------------- Morning Star History The story of the "Morning Stars" is a thrilling one. Nothing ever so aroused the interest, enthusiasm, and support of children and young people in foreign missions, and continued it through age. How it came about is briefly as follows. In 1853 a mission south to the Marquesas Islands had been started, at the request of a chief who had come up in a whaleship to ask for it from the Hawaiians. This at one time covered seven islands. In carrying it on, it had been necessary to charter small and uncomfortable vessels at high prices to take out missionaries with their supplies and to send mail and delegates annually to encourage and look after them. For both missions some arrangement seemed necessary to get proper food to the missionaries, for the transportation of those who became sick, as a protection against the idea that nobody cared what became of them on the part of many evil men occasionally turning up at the islands, and to allow them to go from island to island in the groups to extend their missionary efforts. Conditions grew worse. In Micronesia such a long time elapsed before the first mail arrived after the mission was established, that Mr. Snow's mother had been dead two years before he received the sad news. And at another station there where food was scarce and the variety limited, a missionary came so near starving that when a vessel arrived with supplies, he was so weak that he had to be carried on board the vessel and carefully nursed back to health. In 1856 Dr. Lowell Smith reported on his return from a visit to the Marquesas, "I found our friends all in their usual health, cheerful and happy in their work; but they had been obliged, for several months, to look a little too much on the 'shady side.' Brother Bicknell (an English mechanic) had sold his handsaws, plane irons, chisels, hatchets and adze, and one or two razors in exchange for food. And the native (Hawaiian) missionaries had parted with most of their knives and forks and spoons for the same purpose. They said they would soon have been obliged to part with their clothes if their supplies had not come to hand." If only they had their own missionary packet! The children of England had built the mission ship "John Williams." It was worth considering. Titus Coan proposed that the American Board be asked to invite the children of the United States to take ten cent shares of joint ownership in such a missionary vessel, to be called "Day Star," and he was instructed to write the proposal to Boston. The proposal was favored, with but one change; the name to be "Morning Star." The appeal was made in August, 1856. Actual shares in a vessel going among distant islands on Christian errands speedily became very popular in many states. And in one Hawaiian Sunday School the children took about 300 shares. The money sought, and extra for maintenance, was raised, and the "Morning Star" was built in three months at Chelsea, adjoining Boston. She was a hermaphrodite brig (square-rigged foremast and fore-and-aft mainmast), of only 156 tons. She was launched Nov. 12, 1856, and cost $18,351. Manned and provided, she sailed from Boston on Dec. 2, 1856, under Capt. Samuel G. Moore, with the prayers and wishes of a multitude, and the old song "Waft, waft, ye winds His story." A severe gale soon began, and they were forced to anchor in the lee of Cape Cod, off Provincetown, with a bark one side and a schooner the other. The next morning, after a change of wind, the other two were seen high upon the shore amid the breakers, but the "Morning Star" held fast. After three days a tug towed them around the point of the Cape. Touching at Rio de Janeiro for repairs, she reached Cape Horn
Fairfax, Virginia
Seller Since 1995

---
Payments Accepted:
Item Details:
Category
Coins & Currency
Dimensions
Width: 0 inch
Height: 0 inch
Depth: 0 inch
Weight: 0 pound
Condition
See Description
Items Similar To "American Board of Commissioners for Foreign Missions, Morning Star 1866"