American Bank Note Holographics, Inc - CEO convicted of fraud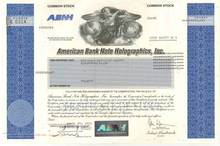 Click thumbnails for expanded view.

Beautifully engraved Certificate from the American Bank Note Holographics, Inc . This historic document was printed by the American Banknote Company and has an ornate border with vignettes of an allegorical woman and the company's name in a holograph. This item has the printed signatures of the company's officers including Morris Weissman as President and Richard Macchiarulo, as Secretary. Holographs on stock certificates are very rare.
Certificate Vignette
Certificate Holograph American Bank Note Holographics ("ABNH") has been a pioneer and world leader in holography, with a focus on security applications for 20 years. ABNH is in many ways a new company today. With new management that started in 1999, ABNH has been revitalized with a host of innovations developed to meet the needs of its diverse marketplace. The new ABNH is stronger than ever, with new leadership building on its heritage and international reputation for innovation and faithful service to its customers. The need for holographic security applications has never been greater. Governments, corporations and citizens worldwide are faced with an increased threat of counterfeiting as a result of new technologies in the hands of counterfeiters. Counterfeiting has become a $500+ billion annual problem and is continuing to increase. On August 8, 2003, a jury found that Morris Weissman, former chairman and CEO of American Banknote, had inflated his company's earnings in 1996 and 1997. Based on the false numbers, the 1998 public offering of the company's subsidiary, American Banknote Holographics, was a success, netting the company $115 million. When the accounting fraud was uncovered in early 1999, the spinoff's shares dropped from about $16 a share to $1.80 a share. The stock was delisted in August 1999. As a result of the fraud, investors were bilked of more than $100 million, prosecutors say. While that sum pales in comparison with the money lost through the accounting frauds at Enron and WorldCom, the conviction is significant. Below is the complaint originally filed by the Securities and Exchange Commission: SECURITIES AND EXCHANGE COMMISSION Washington, D.C. LITIGATION RELEASE NO. 17068A \ July 18, 2001 ACCOUNTING AUDITING ENFORCEMENT RELEASE NO. 1425 SEC v. MORRIS WEISSMAN, JOSHUA CANTOR, JOHN GORMAN, and PATRICK GENTILE, Civil Action No. 01 CV 6449 (JSR) (S.D.N.Y. July 18, 2001) SEC v. AMERICAN BANKNOTE CORPORATION, Civil Action No. 01 CV 6450 (JSR) (S.D.N.Y. July 18, 2001) SEC v. AMERICAN BANK NOTE HOLOGRAPHICS, INC., Civil Action No. 01 CV 6453 (JSR) (S.D.N.Y. July 18, 2001) SEC v. RICHARD MACCHIARULO, Civil Action No. 01 CV 6454 (JSR) (S.D.N.Y. July 18, 2001) SEC v. ANTONIO ACCORNERO and RUSSELL MCGRANE, Civil Action No. 01 CV 6452 (JSR) (S.D.N.Y. July 18, 2001) In the Matter of AMERICAN BANK NOTE HOLOGRAPHICS, INC., Administrative Proceeding File No. 3-10532 In the Matter of MARK GOLDBERG, CPA, Administrative Proceeding No. 3-10534 In the Matter of JOHN LERLO, Administrative Proceeding No. 3-10533 SEC FILES FINANCIAL FRAUD ACTION AGAINST CURRENT AND FORMER SENIOR OFFICERS AND DIRECTORS OF AMERICAN BANKNOTE CORPORATION, AND FORMER SENIOR OFFICERS AND DIRECTORS OF AMERICAN BANK NOTE HOLOGRAPHICS, INC. - FRAUD SUITS INSTITUTED AND SETTLED AGAINST AMERICAN BANKNOTE CORPORATION, AMERICAN BANK NOTE HOLOGRAPHICS, INC., AND OTHERS The Securities and Exchange Commission today filed suit in the United States District Court for the Southern District of New York against current and former senior officers and directors of American Banknote Corporation ("ABN") and/or American Bank Note Holographics, Inc. ("ABNH") for violations of the antifraud, periodic reporting, record keeping, internal controls and lying to auditors provisions of the federal securities laws. The Complaint alleges that beginning with fiscal year 1996, and continuing through fiscal year 1998, the four defendants engaged in a systematic, fraudulent scheme to inflate the revenues and net income of ABNH and its publicly-held parent, ABN, in order to meet earnings forecasts and to condition the market for an initial public offering of stock by ABNH. Named as defendants in the Complaint are Morris Weissman, the former chairman of the board and chief executive officer of ABNH and the former chairman, chief executive officer, and director of ABN, Joshua Cantor, the former executive vice president and general manager of ABNH and, later, its president and a director, John Gorman, the former executive vice president and chief financial officer of ABN, and Patrick Gentile, currently a vice president and the chief accounting officer of ABN and, formerly, ABN's corporate controller. ABN is a holding company, incorporated in Delaware with its principal offices located in New York, New York, which, through its subsidiaries, provides, among other things, stored-value telephone cards, magnetic-strip transaction cards, printed business forms, and checks. ABNH, a Delaware Corporation with its principal executive offices located in Elmsford, New York, is engaged in the origination, production, and marketing of mass-produced secure holograms. ABNH remained a wholly owned subsidiary of ABN until its initial public offering in July 1998. In related actions, the Commission also filed settled antifraud injunctive actions against ABN, Richard Macchiarulo, the former vice president, finance, of ABNH, and Antonio Accornero and Russell McGrane, officers of Colorado Plasticard, Inc., an ABNH customer. The Commission also instituted and simultaneously settled administrative proceedings against ABNH, Mark Goldberg, ABNH's former controller, and John Lerlo, an ABNH plan
Fairfax, Virginia
Seller Since 1995

---
Payments Accepted:
Item Details:
Reference #
ambannotholi3
Category
Coins & Currency
Dimensions
Width: 0 inch
Height: 0 inch
Depth: 0 inch
Weight: 0 pound
Condition
See Description
Items Similar To "American Bank Note Holographics, Inc - CEO convicted of fraud"