5.01 carat cushion diamond halo engagement ring gold jewelry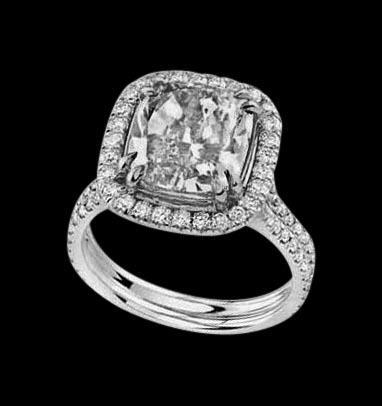 $17,499.00
Quantity available: 100
SALE 5% OFF LIMITED STOCK

METAL SPECIFICATIONS
Metal Name: White Gold 14K

STONE SPECIFICATIONS
Stone Name: DIAMOND
Stone Cut : Cushion & Round Brilliant
Stone Specifications: There is one diamond in center of approx. 3.01 carats & approx. 2.00 carats of smaller diamonds on shank. Natural earth mined diamonds.
Total Stone Weight : approx. 5.01 carats
Stone Certificate: Comes with free STONE CERTIFICATE from GSL
Color : G
Clarity : VS1/VVS1(Center diamond in VS1 & smaller ones in VVS1)

APPRAISAL
Appraised Value : $88200.00
Comes with a FREE APPRAISAL
Ring Size : 6.5 (Can ship in any size you want)

Options available in same color & clarity:
Approx. 1.01 carat & approx. 1.00 carat on shank $4350.00
Approx. 1.25 carat & approx. 1.25 carat on shank $5450.00
Approx. 1.51 carat & approx. 1.50 carat on shank $6350.00
Approx. 1.75 carat & approx. 1.65 carat on shank $8975.00
Approx. 2.01 carat & approx. 1.75 carat on shank $10500.00
Approx. 2.51 carat & approx. 1.85 carat on shank $11950.00
Approx. 4.01 carat & approx. 2.25 carat on shank $38500.00

*PLATINUM UPGRADE AVAILABLE.

The only guarantee or liability of the sale is refund of full money after the goods have been mailed insured in original condition within a period of 5 days from the date of receipt of goods. The reasons whatsoever they may be. Customer further agrees that a chargeback, claim, etc. can only be filed after the item has been received by us in original condition. Customer agrees to ship the item in original condition, Insured via a trackable method and with direct signature requirement. Customer agrees to wait up to 7 business days for proper processing of refund from delivery of returned item to us before filing any chargeback, claim, etc. This will be considered as a chargeback/claims waiver per terms stated here. No claims/chargeback whatsoever or for whatsoever reason will be valid after this period is over
Tel : 1 877 342 8841, 212 764 6167
Items Similar To "5.01 carat cushion diamond halo engagement ring gold jewelry "
Dealer accepts: cash, checks, PayPal
Shipping: $200.00