3 New CARE BEAR Bears COUSINS: RABBIT & CAT & LAMB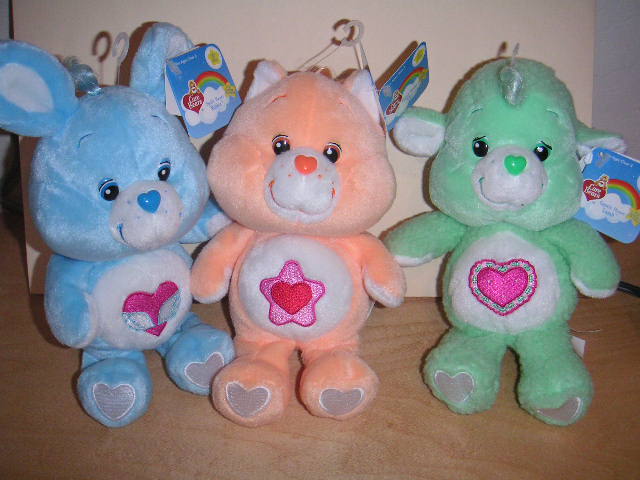 CARE BEARs: 8 INCH RABBIT, CAT & LAMB COUSINS! PLUSH BEAN BAG BEANIES 20th ANNIVERSARY COLLECTORS EDITION These adorable Care Bear Cousins are ready for a new home. They are the very hard to find 8 inch COUSINS celebrating the 20th Anniversary of the Care Bear. SWIFT HEART RABBIT IS ALWAYS HOPPING AND MAKING HAPPINESSS HAPPEN, SHE SHOWS US THE VALUE OF GETTING THE BEST OUT OF EVERY DAY!! HER SYMBOL, A WINGED HEART, REMINDS US THAT T IS ALWAYS TIME TO SHARE A SMILE AND GIVE GOOD CHEER EVEN WHEN WE'RE BUSY!! PROUD HEART CAT GIVES HER VERY BEST IN EVERYTHING SHE DOES, INCLUDING HELPING OTHERS DO THEIR VERY BEST!! HER STAR WITH HEART SYMBOL REMINDS US TO DO OUR BEST AND TO KEEP LOVE AT THE CENTER OF ALL WE DO!! GENTLE HEART LAMB ALWAYS SEEMS TO HAVE THE PERFECT WORDS OF ENCOURAGEMENT AND SHE ALWAYS OFFERS A HELPING HAND!! HER SYMBOL, A HEART SHAPED PILLOW, REPRESENTS HER GENTLE, SOFT-HEARTED WAYS AND HELPS REMIND US THAT HARD THINGS ARE BEST OVERCOME WITH SOFT-HEARTED CARING!! Special COLLECTORS EDITION with 20th Anniversary Tags. SOLD INDIVIDUALLY ALSO.
Dealer accepts: PayPal, Money Order
Shipping: $7.00
Items Similar To "3 New CARE BEAR Bears COUSINS: RABBIT & CAT & LAMB"