10 carat calibrated diamonds parcel approx. 1 pointer melee diamond parcel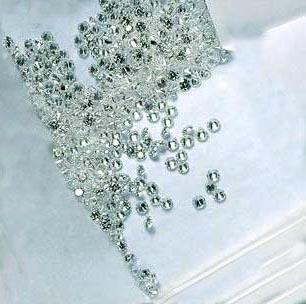 $7,500.00
Quantity available: 100
Calibrated diamonds parcel of 0.01 carats each stone average size 1 pointers. Approx grading is G/H SI , Price $750 per carat. This parcel contains total Approx. 10 carats of diamonds.

Calibrated and mixed any kind of diamonds, any size, any shape and quantity is available. Full fledged diamond service available. New customers can order our sampler which has over 5 different calibrated qualities by numbers to get consistent quality for re-orders.

The only guarantee or liability of the sale is refund of full money after the goods have been mailed insured in original condition within a period of 5 days from the date of receipt of goods. The reasons whatsoever they may be. Customer further agrees that a chargeback, claim, etc. can only be filed after the item has been received by us in original condition. Customer agrees to ship the item in original condition, Insured via a trackable method and with direct signature requirement. Customer agrees to wait up to 7 business days for proper processing of refund from delivery of returned item to us before filing any chargeback, claim, etc. This will be considered as a chargeback/claims waiver per terms stated here. No claims/chargeback whatsoever or for whatsoever reason will be valid after this period is over Tel : 1 877 342 8841, 212 764 6167
Items Similar To "10 carat calibrated diamonds parcel approx. 1 pointer melee diamo..."
Dealer accepts: Money Order, PayPal
Shipping: $175.00