0.90 ct diamond Sparkling Loose Diamond GIA certified EXCELLENT CUT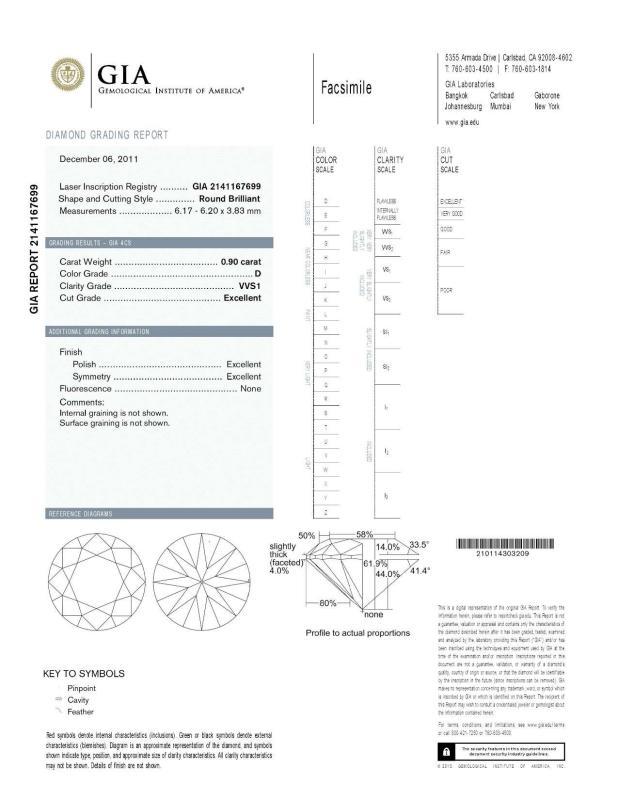 $13,190.00
Quantity available: 100
GIA Report # 2141167699
Round brilliant cut
6.17 - 6.20 x 3.83 mm
Carat Weight:0.90 carat
Color :D
Clarity :VVS1
Cut : Excellent
Polish: Excellent
Symmetry: Excellent
Depth: 61.9%
Table: 58%
Crown Angle: 33.5°
Crown Height: 14.0%
Pavilion Angle: 41.4°
Pavilion Depth: 44.0%
Star Length: 50%
Lower Half: 80%
Girdle: Slightly Thick, Faceted (4.0%)
Culet: None
Fluorescence: None
Comments :Internal graining is not shown. Surface graining is not shown.




Comes with the GIA stone certificate and appraisal

Can be set in any kind of mounting . You can even e.mail us a pic of mounting you want for this.

If you are interested in a diamond and don't find it online please e.mail us and we may have in stock.
The only guarantee or liability of the sale is refund of full money after the goods have been mailed insured in original condition within a period of 5 days from the date of receipt of goods. The reasons whatsoever they may be. Customer further agrees that a chargeback, claim, etc. can only be filed after the item has been received by us in original condition. Customer agrees to ship the item in original condition, Insured via a trackable method and with direct signature requirement. Customer agrees to wait up to 7 business days for proper processing of refund from delivery of returned item to us before filing any chargeback, claim, etc. This will be considered as a chargeback/claims waiver per terms stated here. No claims/chargeback whatsoever or for whatsoever reason will be valid after this period is over
Tel : 1 877 342 8841, 212 764 6167
Items Similar To "0.90 ct diamond Sparkling Loose Diamond GIA certified EXCELLENT C..."
Dealer accepts: PayPal, Money Order
Shipping: $200.00