-Scuffed- Star Wars Super Collector's Wish Book 4th Edition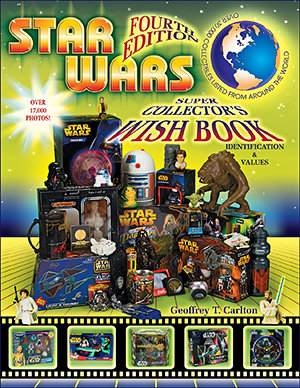 With the release of Star Wars, Episode II, in theaters this spring, a new collecting frenzy will begin for Star Wars collectors everywhere. Not only will there be new merchandise crowding store shelves, but vintage collectibles are sure to skyrocket in value. Star Wars collectibles have been around since the year before the release of the first movie in 1976. Fans and collectors need a trustworthy source for all of these items, and Star Wars Super Collectors Wish Book will fulfill their destiny. There is no other book on the market that even comes close to this oneits loaded with over 23,000 listings and almost 9,000 color photographs! Values are given for loose and mint-in-package movie and character items: cookie jars, puzzles, costumes, action figures, playsets, cups, vehicles, posters, trading cards, micromachines, and thousands more. The book is divided into broad categories for easy location of items, unlike other guides on the market that leave you guessing. In both quantity and quality, this guide is unparalleled and surpasses all others. Though massive, its format makes it a quick, easy-to-use reference. Trust the force to guide you toward Star Wars Super Collectors Wish Book!
Dealer accepts: PayPal
Shipping: Negotiated with Seller
Items Similar To "-Scuffed- Star Wars Super Collector's Wish Book 4th Edition"