Yerington Mountain Copper Company 1918 - Nevada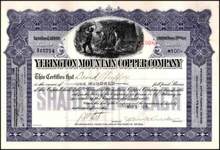 Click thumbnails for expanded view.

Beautifully engraved certificate from the Yerington Mountain Copper Company issued in 1918. This historic document has an ornate border around it with a vignette of men working in a mine. This item is hand signed by the Company's President and Secretary and is over 85 years old.
Certificate Vignette Yerington District, Lyon County Copper was found in the Yerington District very early in history of Nevada, in 1865. A number of copper veins were mined around Yerington. Many of these mines were of a type called skarn, in which hot fluids from a granitic type rock change limestones into ore. Often skarns contain very interesting minerals. In the Yerington area, skarns are found with garnet and epidote. Copper in these mines is found in the mineral chalcopyrite. The other major ore deposit type in the Yerington District is porphyry copper, just as we have seen in Battle Mountain, in Bingham Canyon, in many Arizona mines, and in Chile. The granite-type rock adjacent to Yerington in the Singatse Range contains scattered pods, veins, and grains of chrysocolla, a blue copper silicate mineral, along with green malachite, purple cuprite, and brassy chalcopyrite. The early mines followed veins and skarns. Until 1940, the district produced over 17 million dollars, chiefly in copper. However, a very large and important copper mining company, Anaconda, began exploring the granitic rocks next to the town of Yerington. In 1953, Anaconda produced copper at its mill in the town of Weed Heights, adjacent to Yerington. Between 1953 and 1965, Anaconda produced 803,224,674 pounds of copper, worth $255,154,480. The Yerington pit is played out now, filling with water. But another copper mining company, Arimetco, is operating the MacArthur pit, afew miles north of Yerington. Last year it produced 12,995,000 pounds of copper. The town of Yerington has been a ranching and farming center, as well as a mining town. It never depended entirely on copper mining, and it never became a ghost town. Henry Marvin Yerington (1829-1910) In 1894, the town of Yerington, Nevada, was established near the Walker River in Mason Valley in the east-central portion of Lyon County, Nevada. Before being named for Henry Marvin Yerington, superintendent of the former Virginia and Truckee (V&T) Railroad, this community had been known by several other names including Greenfield, Willow Switch, Pizen Switch, and originally Poison. The initial name originated in recognition of a saloon owned by a Mr. Downey, who manufactured his own unique brand of liquor from frequently questionable ingredients. In 1894, community leaders wanted to attract a spur of the Virginia & Truckee Railroad and changed the name of the town again, this time to honor Henry Marvin Yerington, the railroad's superintendent. Over the years, Yerington has developed into one of Nevada's most important agricultural areas, with local farmers growing quality alfalfa, onions, potatoes and garlic. Yerington also worked for the Carson and Colorado Railroad Co. as president and was instrumental in forming it in 1880. He also was involved with the following companies: Belvidere Mining Company, Bodie & Benton Railway and Commercial Company, Bodie Hydraulic Mining and Water Company, Carson & Tahoe Lumber and Fluming Company, Central Consolidated Mining Company, Consolidated Esmeralda Mines Company, Dudley Mining Company, El Dorado Wood and Flume Company, Inyo Development Company, Juniata Consoldiated Mining Company, Jupiter Mining Company, Lake Tahoe Railway and Transportation Company, Natural Soda Company Limited, Real del Monte Mining Company, Savage Mining Company, Sierra Nevada Wood and Lumber Company, Southern Development Company, Sterling Mine, Syndicate Mining Company, Tioga Consolidated Mining Company, Union Mill and Mining Company, United Alkai Company Limited, Walker Lake & Bodie Toll Road Company, and Walker Lake Wood and Lumber Company
Fairfax, Virginia
Seller Since 1995

---
Payments Accepted:
Item Details:
Category
Coins & Currency
Dimensions
Width: 0 inch
Height: 0 inch
Depth: 0 inch
Weight: 0 pound
Condition
See Description
Items Similar To "Yerington Mountain Copper Company 1918 - Nevada"