WEBKINZ~BLACK CAT~Sealed Tag~Secret Code~IN STOCK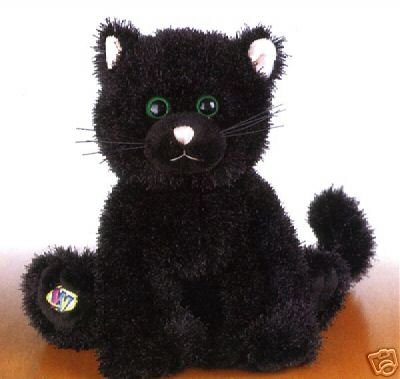 $16.95
Quantity available: 2
"WEBKINZ" ~~ BLACK CAT~ Webkinz exclusive for HALLOWEEN! available for shipment NOW! Limited edition no longer available. SEALED TAG CONTAINS UNUSED SECRET CODE! ~~ ~~ Meet the Webkinz™, a cuddly collection of very special plush pets. Every Webkinz™ wears a tag with a secret code that can only be read after purchase. This code is the password into Webkinz World™, an online environment just for kids. Click on the Webkinz World™ link for a virtual tour. After they log in, kids can name and adopt their new pet, learn and adopt it, play and have fun. There are rooms to build, trivia challenges to play and lots of arcade games, too. It's all age-appropriate, friendly, welcoming, educational & so much fun! Approximately 8". Most other Webkinz also available. >Webkinz ~ the stuffed animal that comes alive online in Webkinz World This is a brand new, unadopted 2007 Limited Edition Webkinz by Ganz - the Black Cat. Will be new with unopened Tag. No need to waste your gas by searching for this Webkinz. He will be almost impossible to find & you can be sure to get him NOW.
Dealer accepts: PayPal, Money Order
Shipping: $7.00
Items Similar To "WEBKINZ~BLACK CAT~Sealed Tag~Secret Code~IN STOCK"