Antique Ivory Carving - Incense Burner - 34" - 11 Pounds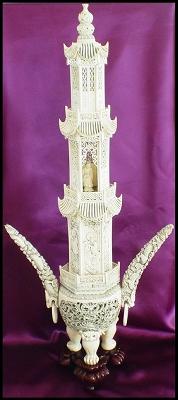 Click thumbnails for expanded view.







$12,500.00

---

Quantity Available: 1
Hand Carved Ivory - VERY RARE - INCENSE BURNER with PIERCED GLOBULAR BODY, KWAN YIN RESIDING in the CENTER of the TEMPLE and LOHANS carved around the PERIMETER - 34" - 11 POUNDS. This carving is both INTRICATE and MASSIVE at 34" tall and weighing 11 pounds! This is a Chinese ivory incense burner with globular body on three animal feet extended pierced handles and large pagoda lid. The pagoda has pierced panels and central figure of Guan Yin in the center of the temple. The base of the pagoda displays a Buddha with halo and some of the 18 Lohans in relief around the pagoda. Many cultures throughout the world use incense burner holders for religious and spiritual rituals. The design of many Chinese incense burners are heavily influenced by religious images, such as the Buddha or Chinese gods. Many people light incense burners in spiritual places, such as altars, temples and sacred places and pray while they are lit. It is very common in many Asian countries to see people deep in prayer while next to a Chinese incense burner. In addition to being part of a spiritual tradition that extends back thousands of years, incense burner holders give off a pleasing fragrance that spreads across a large area. The use of incense burners has a long history in China. Generally, people cense their clothes to show courtesy and censing later became a practice favored by intellectuals. A Lohan, is one who has followed the Eightfold Path and has achieved deliverance of this earthly existence. He has reached "the other shore" and is saved for all eternity. In him the craving for sensual pleasures, earthly existence, ignorance and wrong views - are gone. He is subject to no more rebirths and karma. Lohans are well-known for their great wisdom, courage and supernatural power. Due to their abilities to ward off the evil, Lohans have become guardian angels of the Buddhist temple. This incense burner has loose ring handles and the base displays carvings of dragons chasing the flaming pearl of knowledge among the clouds in deep relief on both the front and the back base of this incense burner. The delicate filigree work is absolutely stunning. The dragon is the symbol of luck, wealth, good fortune and wisdom. The dragon represents male vigor and fertility and is also the imperial emblem of the Emperor. The dragon is the symbol of the emperor and ranks first amongst the 4 supernatural creatures. This carved ivory tripod censer is carved in deep relief. The curved handles each have rings that float freely. It is raised on three mask and paw feet surmounted by a Foo Dog with an ivory pearl beneath each paw. The Foo Dog is the symbol of good fortune, luck and wisdom and is placed at the entrance of a home, temple, palace or other building to guard the occupants from evil and harmful spirits. The Foo Dog is the emblem of valor and energy - the indispensable compliments of wisdom. This magnificent carving showcases Kwan Yin, the goddess of mercy, residing in a temple atop an incense burner surrounded by Lohans, dragons and foo dogs. The Ascended Lady Master Kwan Yin means "the sovereign who looks on the sounds of the world." According to legend, she paused on the threshold of heaven to listen to the cries of the world. Kwan Yin was worshiped in China before the advent of Buddhism and thereafter adopted by Buddhists as an incarnation of Avalokitesvara. She has come to be known in the West as the Goddess of Mercy. It is said that Kwan Yin took embodiment as the third daughter of Miao Chuang Wang, identified with the Chou dynasty, a ruler of a northern Chinese kingdom c. 696 B.C. According to legend, she was determined to devote herself to a religious life and refused to be married despite the command of her father and the entreaties of her friends. Finally, however, she was permitted to enter the Nunnery of the White Bird in Lung-shu Hsien. Here, at her father's orders, she was put to the most demeaning tasks which in no way dampened her zealous love for God. Angered by her devotion, Miao Chuang Wang ordered her to be executed, but when the sword touched her it was broken into a thousand pieces. Her father then commanded her to be stifled, but when her soul left her body and descended into hell she transformed it into paradise. Carried on a lotus flower to the island of P'ootoo, near Nimpo, she lived for nine years healing the diseased and saving mariners from shipwreck. It is said that once, when word was brought to her that her father had fallen ill, she cut the flesh from her arms and used it as a medicine which saved his life. In gratitude, he ordered that a statue be erected in her honor, commissioning the artist to depict her with completely formed arms and eyes. The artist misunderstood, however, and to this day Kwan Yin is sometimes shown with a thousand arms and a thousand eyes, thereby able to see and assist the masses of her people. The Qianlong signature resides on the underside of the base refers to the revered Emperor Qianlong. This carving is 100% genuine elephant IVORY and in EXCELLENT CONDITION with some age lines befitting a piece of this age. It was HAND CARVED and HAND SCRIMSHAWED and SIGNED in China by a gifted master craftsman in the early 1900s. It has a lovely patina that nature has chosen to bestow upon it. This carving is UNIQUE and exhibits beautiful IVORY GRAIN which is guaranteed to be clearly visible. The ivory has been highly polished and exquisitely detailed. The quality of the ivory, the quality of the carving and the quality of the scrimshaw work are all exceptional. This carving was legally imported into the USA and can only be shipped to locations within the USA. This exceptional work of art would make a superb and extremely unique addition to your collection of fine ivory carvings and should only increase in value over time. Dimensions: 34.00" x 16.00" x 5.00" Weight: 11 pounds Signature: Engraved - Qianlong - IF YOU WOULD LIKE ADDITIONAL PICTURES OF THIS ITEM THAT ARE LARGER AND SHOW MORE DETAIL, PLEASE SEND US AN E-MAIL AND WE WILL FORWARD THEM TO YOU. THANK YOU FOR YOUR INTEREST!
Dealer Accepts:
Item Details:
Dimensions
Width: 16 inches
Height: 34 inches
Depth: 5 inches
Weight: 11 pounds
Items Similar To "Antique Ivory Carving - Incense Burner - 34" - 11 Pounds"