TITO SALOMONI Surrealist Framed Painting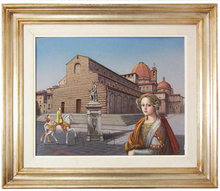 Click thumbnails for expanded view.




This is an exceptional oil on canvas entitled "Le Rendez-vous", by Tito Salomoni (1928 -1989), the noted Italian surrealist painter. Depicted is the Basilica of St. Lorenzo in Florence, with a Medici noblewoman in the forefront who is meeting an approaching knight. This work dates from 1985. Canvas measures 15 3/4" by 19 3/4" and frame measures 24 1/8" by 28 1/4" by 2 1/8". Condition is excellent. This painting is being sold on behalf of a collector in New York city, who has a fine collection of 20th century American and European paintings, including original works by Salvador Dali, Caroll Beckwith among others. The painting may be viewed in Manhattan by appointment. Additional images forwarded upon request. Salomoni won numerous prestigious awards, including a Silver Medal from UNESCO, First Place Award from PHI DELTA KAPPA, and the coveted Letter of Science in the Arts from the ITALIAN ART ACADEMY. He is also listed in Arte Italiano Per II Mondo (Italian Art in The World). Recently his art has appeared on many international magazine covers, inside story illustrations, and important science fiction book covers. Salomoni was born in Ferrara in 1928 and began painting surrealist works in 1968. During his career he held individual exhibitions throughout Italy, as well as the United States and France. Here is a partial list through 1978:
1970 Galleria La Fiaccola, Chieri, Italia
1970-1974, 1976 Galerie RorVolmar, Vichy, Francia ( France )
1971 Prestige Art Galleries, Skokie, IL, USA
1972 Centro Attivita Visive, Palazzo dei Diamanti, Ferrara, Italia
1973 Galleria, II Nuovo Fauno, Verona, Italia
1973 Galleria Viotti, Torino, Italia
1974 Galleria Masini, Firenze (Florence), Italia
1975 Prestige Art Galleries, Skokie, IL, USA
1977 Centro d' Arte Il Nuovo Fuso, Parma, Italia
1977 Galleria Masini, Firenze
1977 Galleria San Michele, Brescia, Italia
1977 Galleria Modi, Bergamo, Italia
1978 Galleria Quaglino, Torino, Italia
1978 Prestige Art Galleries, Skokie, IL, USA
1978 The Convenant Club of Illinois, Chicago, IL, USA
Here is a partial list of group exhibitions and awards (in Italian), again through 1978:
1968 126th Quadriennale Nazionale di Torino, Soc. Promotr. Belle Arti .
1969 Piem. Artist. Cufturale, Mostra Sociale di Primavera, Torino
1969 127th Esposiz. di Arti Figurative Promotr. Belle Arti di Torino
1969 Rass. Nazion L. Guerra S. Giovanni in Persiceto (Medaglia d'oro)
1969 Premia Pittura Citla di Arona (Medaglia d' Argento)
1969 Plemonte Art. Culturale, 4th Mostra Naz. del Bianco e Nero
1969 Piemonte Art. Culturale, 13th Mostra d' Autunno d' Arti Figurative
1969 Mostra A Quattro Galleria RorVolmar, Parigi
1970 Mostra A Quattro Galleria RorVolmar, Parigi
1970 Mostradel Surrealismo, Galleria II Timone, Asti
1971 Mostra a Quattro, Galleria Ror Volmar, Parigi
1976 Centro Culturale Oltrepadano, Mostra con corso Internal. di Pittura. 1st Premio
1976 Premiodella Cultura e dell' Arte II Centauro d' Oro.
1977 VIII Rassegna Primavera, Palais de I' Unesco, Paris, (Medaglia Sigillo UNESCO)
1977 2nd Concorso di Pittura, Premio Antiquari Lucchesi (Targa d'argento)
1977 1st Mostra Internaz, di Pittura di Salice Terme, (Medaglia d' Oro)
1978 Inserito nell' albo d' oro dell' Accademia Italia dell' Arte, delle Lettere e delle Scienze
1978 International Exhibition of Art-Promoting Posters, The Carousel, Tel Aviv, Israel, Best Poster Award. ( lnahum Salamoni Solomoni Solomani Salamani )
West New York, New Jersey
Seller Since 2002

---
Payments Accepted:
Shipping:
Negotiated with Seller
Item Details:
Dimensions
Width: 0 inch
Height: 0 inch
Depth: 0 inch
Weight: 0 pound
Items Similar To "TITO SALOMONI Surrealist Framed Painting"