The Graphic-11/9/18 WAACs, Italy, Black Sea Fleet,Japan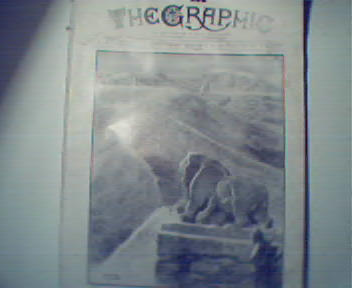 $15.00
Quantity available: 1
Contents Include: Cvr Illustration of Great Lion of Babylon, The Way of the War, Down and Out of the Great War, Valencennes Liberated by the Canadians, The Turn of the Tide in Italy in Illustration by Amato, Problem of the Black Sea Fleet in Illustration, Black Sea Menace to Boch and Bolshevik in Map,
Spritual Effect of the War on Japan, The Mikados Gift of a Sword to the King of Englad, The Front with many Climates, How Our Airmen Hamper the Hun Retreat with Illustration of British Plane Firing on Ground,
Ferrying Americas Armies to the Fields of France-Story in Word and Photo, Two Page Illustration-Capture of Turkish Batteries by Yeoman Brigade in Pasestine, Wana Ranee Oriental Fragrance in One Page Ad,
Actors in Play-Twelth Night as Performed, Books that Take You Away from the War, Harrods Tea Gown in Ad, Gillette Razor Ad, Photo of a Number of W.A.A.Cs.! Great Photos and More Ads! Has some tearing to spine edges from this previously being bound in hardcover, some water stains and wrinkling to pages, Overall Good Condition!
[Box 4668] - [Item 121393]
Dealer accepts: PayPal, Money Order
Shipping: $4.50
Items Similar To "The Graphic-11/9/18 WAACs, Italy, Black Sea Fleet,Japan"