THE GLASS INDUSTRY IN SANDWICH VOLUME 1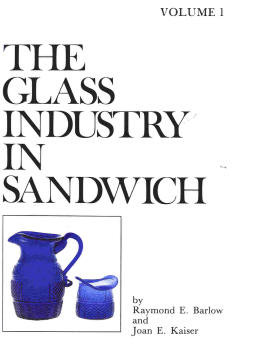 This beautifully color-illustrated series of 4 volumes presents examples and history of the glass company on Massachusetts' Cape Cod which made the name "Sandwich" famous. Factory records and glassmakers and decorators have been meticulously studied to write this fascinating history. Volumes 1 and 2 are being written. Volume 3 and 4 are now available. Volume 3 presents a foreword by Richard Carter Barret and accounts of the Boston and Sandwich Glass Company between 1858 and 1882, the Cape Cod Glass Works 1858-1864, and the Cape Cod Glass Company 1864-1869. Sandwich Glass objects are grouped into chapters on vases and flower containers, cologne bottles, witch balls, toys, and specialized containers. A full discussion of Nicholas Lutz's work at Sandwich is an important part of this volume. Volume 4 presents 391 examples of Sandwich glass together with forewords by Richard A. Bourne and George Michael and chapters on the late phases of the Boston and Sandwich, Cape Cod, and Vasa Murrhina Glass Companies. Nehemiah Packwoods and J.B. Vodon glass cutters are presented with many examples. Candlesticks, insulators, frosted ware, late blown ware, threaded and epergne forms are each grouped together and many forms of each are shown.
Dealer accepts: PayPal
Shipping: Negotiated with Seller
Items Similar To "THE GLASS INDUSTRY IN SANDWICH VOLUME 1"