The Encyclopedia of Old Fishing Lures Made in North America, Volume 19: Wool-Z by: Robert A. Slade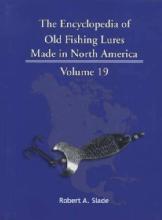 Click thumbnails for expanded view.

$28.50

---

Quantity Available: 2
ANG-2011-9781425152604-X2
Collector Bookstore is a retailer of new books located in Leavenworth, Kansas. We specialize in price guides and reference books for the antiques and collectibles industry.
Wool-Z
Robert A. Slade, after collecting old fishing tackle since 1958 and contributing articles on old fishing lures for a collector magazine for several years started researching and writing books in the 1990's. He published the History & Collectible Fishing Tackle Of Wisconsin in 1999 which sold 4,500 copies. Bob realized that even though there have been many books published on the subject of old fishing lures that few books covered any detailed history on the old lure makers. His latest book writing project was nine years in the making and covers over 100 years of lure making history starting in 1875 and covers over 2,500 lures makers throughout all of North America. The Encyclopedia Of Old Fishing Lures Made In North America is the first publication with extensive history and patent information on old lure makers and the first to include extensive coverage on Canadian lure makers. The author traveled to 11 states and 3 Candian Providences visting collectors homes, newspaper archives, museums and other sources and has taken over 10,000 pictures in preparing the historical stories for these books. The set of books arranges for the individual and company lures makers to appear in alphabetical order. People purchasing these books can buy any one single book, a whole set, or even a book a month if they desire as the books will be printed and shipped on demand. Each book has over 400 pages of text, pictures and collector values with each book containing a table of contents and index as well as a master index for the complete set of books.
Woolfie Lures, Inc.Worden IndustriesWorden's Combination BaitWorth Tackle Co. / The Worth Co.Wotta-Frog - Paw Paw Bait Co.Wright & McGill Co.Wright Cast & Troll SpoonsWright Tackle Co.Wright, H.G.Wyant LuresWycech, C.E.Wyl i e's Catfish LuresWyrill, J.F.Y N T TackleYeck, DickYindra, LeonardYipsi Bait Co.Yokich Musky Spiral / Yokich, George A.York BaitsYosbida, SamYoung Lures, Inc.Young, FredYuncker BrothersZ-LuresZak Tackle Mfg. Co.Zamboni Weedless Hook Co. / Zamboni Weedless PlugsZeibig, B.H.Zenith City Tackle Co.Zero Hour Bomb Co. / Zebco Co. / Zebco/Brunswick Corp.Zielke, CharlesZimmerman, CharlesZing Tackle Co.Zink Artificial Bait Co.Zinke BrothersZizz LuresZoli, Inc.Zorro Bait Co.Zumski, Ed
Dealer Accepts:
Item Details:
Dimensions
Width: 8.25 inches
Height: 11 inches
Depth: 0 inch
Weight: 2.19 pounds
Items Similar To "The Encyclopedia of Old Fishing Lures Made in North America, Volume 19: Wool-Z by: Robert A. Slade"