The Bobbsey Twins At The Seashore by Laura Lee Hope, 1950 Edition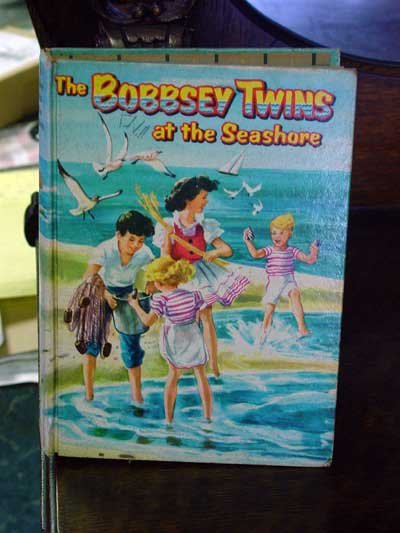 The Bobbsey Twins
, along with
Nancy Drew, The Hardy Boys,
and
Tom Swift
, are among the best known of children's' book characters. Edward Stratemeyer, who used the pseudonym "Laura Lee Hope", created
The Bobbsey Twins
in 1904. It is believed that he wrote the first book and then hired ghostwriters to write the remaining books.
The Bobbsey Twins
series extended to 72 volumes, written between 1904 and 1979.
The Bobbsey Twins At The Seashore was the second in this series. The writing has been attributed to Lillian C. Gariis who was a newspaper reporter for the Newark Evening News and author of many books under her own name.
This edition of The Bobbsey Twins At The Seashore, copyright 1954 by Whitman Publishing Company, was reprinted in 1962 and featured a glossy picture cover format with the original 1904 text. It has all the usual wear that may come with a book of this era, including a few ink drawn lines that obviously was placed there by a very young reader. Additional photos are available upon request.
Dealer accepts: PayPal, Money Order, Check
Shipping: Negotiated with Seller