The Architectural Forum 4/1923 Daily News Sanitarium, F. Nelson Breed, Foundations of New York Court House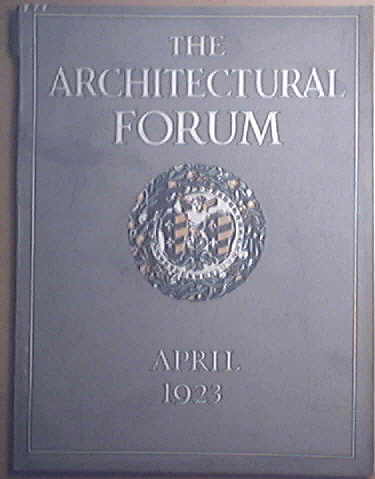 $60.00
Quantity available: 1
VINTAGE Magazine
The Architectural Forum April 1923 Vol.XXXVIII-No.4
9" x 11"1/2 softcover, 180 pages.
Contents:
Plate Illustration- Dormitory Group, Smith College, Northampton Plate Illustration- National Life Insurance Company Building Montpelier, VT Plate Illustration- First Parish Community House, Longmeadow, Mass Plate Illustration- Daily News Sanitarium, Lincoln Park, Chicago Plate Illustration- House Of Dr. Samuel Milbank, 117 East 65th Street, New York Plate Illustration- House Of Harvey D. Gibson, ESQ., 52 East 69th Street, New York. Letterpress- Northwest Door, Notre Dame, Beaune, France Letterpress- Recent Housing In The Netherlands Letterpress- Italian Renaissance Details
Two Wall Fountains at Brescia, Italy
Measured Drawings by F. Nelson Breed Letterpress- Foundations of New York Court House
And more termendous designs with descritions, photos and WONDERFUL Ads! Cover has slight soiling, small tear on top left corner of spine. Overall Very Good to Excellent Condition!
Dealer accepts: Money Order, PayPal
Shipping: $5.00
Items Similar To "The Architectural Forum 4/1923 Daily News Sanitarium, F. Nelson B..."