Swiss Luzern Pike, Spear, 15th/16th Century, Landsknecht, Unmarked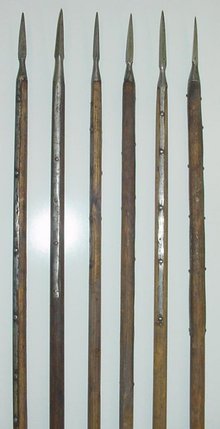 Click thumbnails for expanded view.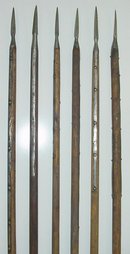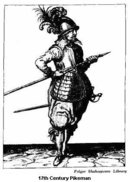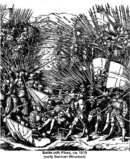 $950.00

---

Quantity Available: 1
Recently obtained directly from the Luzern Zeughaus (arsenal), this pike has been in storage and periodic use there since the late 15th/early 16th Century. This pike differs from the other one listed on my site in that it is completely UNMARKED (though still from the Luzern Zeughaus). Hand forged iron, showing lamination, with square-section point, round ferrule, and side straps. Mounted on hand-hewn tapering round-section arsenal shaft of ash, old and original to its period of use. It was common for the arsenals to periodically replace polearm shafts as they showed signs of damage or rot, so it is virtually impossible to determine the age of this individual shaft. It shows storage and handling marks and some scattered worming, but is fully sound and serviceable.
Pikes of this exact style and description are pictured and described in "Katalog der Waffen-Sammlung im Zeughause zu Solothurn", by Dr. Rudolph Wegeli, published 1905. They are also described in "Katalog der Historischen Sammlungen im Rathause in Luzern", a published inventory of weapons in the Luzern Zeughaus. Both of these references list the date of these as 15th/16th Century.
It is extremely rare to find a group of historical weapons of this age from their original source with no alterations. While pikes were common in the 16th and 17th Centuries, very few now survive in their full length. I just obtained a large shipment of these, still bundled together in groups of 12 with the 19th C leather straps they were stored in. The exact pike may differ slightly from the one pictured, but all are in very good original condition and come with a brass collection tag and matching numbered notarized Certificate of Authenticity.
Overall lengths vary between 14' 1" and 15' 4", most being just over 15 feet. Length of metal varies between 20" and 35", with side straps set in hand cut dados in the shaft. Straps fastened with iron head nails from the period of the shafts, but some are later replacements. I have gone to great trouble and expense to bring these over in their full length and opened a motor freight account to facilitate their shipment in full length. Price does not include shipping, but I can offer discounted freight rates and substantial discounts for multiple pieces ordered and shipped at the same time. If, God forbid, someone should want the pike shaft cut to 8' or less, I can ship for a much lower price via UPS. Contact seller for additional details.
A Brief History of the Pike and the Swiss Mercenary:
The main weapons of war in the ancient world were the sword and the javelin, being used by all major armies from the Egyptians to the Roman legions and Alexander the Great. One of the main infantry weapons of Alexander was the sarissa, a spear of at least 15 feet long. The use of long spears, or pikes, in disciplined formations was revived by the Helvetic Confederation, a unified collection of city states and cantons now known as Switzerland, in the last quarter of the 15th Century. Strikingly similar to those of Alexander the Great, their formations of deep broad squares made a nearly impenetrable hedge of steel.
Combining a strict warrior's code and absolute discipline (instant death to anyone who broke ranks), the Swiss perfected the use and tactics of the pike. Victories over Charles the Bold of Burgundy at Grandson and Morat in 1476 and against Maximillian at Dornach in 1499, established the Swiss pike tactics as the infantry standard for all European armies for the next century and a half. The relatively poor Swiss often made their livelihood from pay and booty as mercenaries in foreign service. The individual cantons themselves, of which Luzern was one, often made a very profitable wholesale trade in mercenaries. Companies or even whole cantons of armed soldiers often fought in foreign wars working for the highest bidder. This was the beginning of the famous "Landsknecht" mercenaries.
One might think that the advent of firearms would have made the pike obsolete, as it did with the armored knight. However, the slow-loading musketeer was incredibly vulnerable to a swift cavalry attack. As a result, firearms were used in conjunction with the pike to provide the protection and force of the pike square with the firepower of the musketeer. Often several ranks of musketeers would shelter under the front ranks of a pike square. Another tactic would put "horns" of musketeers at the corners of a pike square to provide shot in all directions. If the musketeers came under cavalry attack they simply came under the pike shafts or went inside the square itself. A well disciplined pike square was virtually impervious to cavalry, a tactic which continued into the 19th century with the infantry squares of bayonet-mounted muskets so effective during the Napoleonic Wars.
The rugged terrain and the Swiss tendency for strict discipline and military preparedness helped to achieve the neutral status they have enjoyed for many years. This military preparedness is the reason why these pikes have been kept serviceable in an arsenal since the 15th Century and why we now offer this unprecedented opportunity to own an original untouched piece of important military history. One can only imagine the many campaigns these pikes have been involved in during their more than 5 century existence!
Tuckasegee, North Carolina

---
Dealer Accepts:
Shipping:
Negotiated with Seller
Item Details:
Category
Militaria & Weapons
Dimensions
Width: 0 inch
Height: 0 inch
Depth: 0 inch
Weight: 0 pound
Items Similar To "Swiss Luzern Pike, Spear, 15th/16th Century, Landsknecht, Unmarked"