Southern Pacific Picture Is Unusual Ad 1944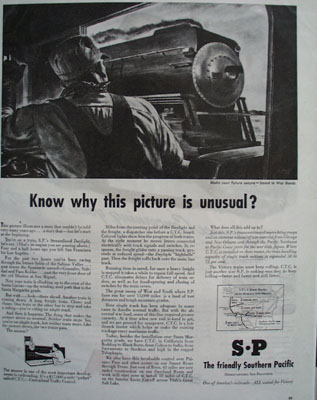 $9.00
Quantity available: 1
Southern Pacific Picture Is Unusual Ad 1944 Theis is a September 30, 1944 advertisement. It is a nice black and white ad from Southern Pacific Railroad. Ad shows man looking at a picture of a speeding locomotive It reads, Know why this picture is unusual. Reads, you are on a train. Another train is coming down. A long freight train. Closer and closer. One train or the other has to stop and take a sideing, your are riding on single track. And then it happens. The thing that makes the picture so unusual. Neither train stops. Yes you are on single track. The answer, miles from the meeting point of the Daylight and the freight, a dispatcher sits before a CTC board. colored lights show him the progress of both trains. At the right moment he moves levers connected electrically with track signals and switches. In response the freight glides onto a passing track, proceeds at reduced speed. The Daylight highballs past. Then the freight rolls back onto the main line track. In mint condition. Photo is taken through plastic and may show wrinkles or crookedness that is not in the ad. This original magazine tear sheet measures 10 1/2 inches wide by 13 3/4 inches tall.
Dealer accepts: Check, Cash, PayPal, Money Order
Shipping: Negotiated with Seller
Items Similar To "Southern Pacific Picture Is Unusual Ad 1944"