Ships & Sailing 6/51 US Merchant Fleet,Seattl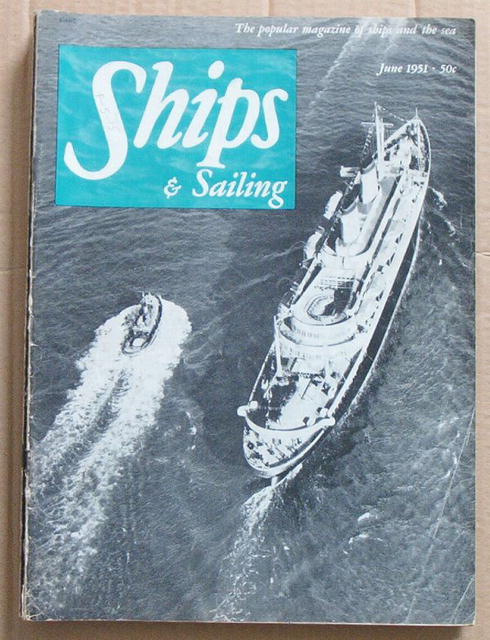 $15.00
Quantity available: 1
This is
Ships & Sailing
, Volume One, Number One, June 1951, "The popular magazine of ships and the sea". Contents include: Cover photo "The
Independence
(see page 34)"; "Fishermen of Sesimbra" (a Portuguese island south of Lisbon); "Track C to Europe" - take a trip along the winter route across the Atlantic Ocean on a U.S. Lines C-2 Freighter; "Steel Giants of the Great Lakes" - to do a year's work in an eight-month navigation season, the Great Lakes fleet has to be the fastest on earth; "Ship Types of the U.S. Merchant Fleet"; "Seattle - Two-fisted port on Puget Sound" including map of the Port of Seattle; "East for the Horn" - shake a reef out of your belt, put the grog handy, light your pipe, and join the crew of the Cape Horn sailer
Viking
as she races for home with a cargo of grain from Australia; "Song of the Capstan" - the lusty chanteys of sailing-ship days were more than mere words and music, they were coordinators of men toiling at a common task; "Avondale Marine Ways" - 14 years of outstanding employee relations have built a top-flight performance schedule that raised this year's worth to 2.5 million dollars; "The model shipwright"; and more.
Size is 8.25" x 11.25", 68 pages. Very good condition, with slight shelf wear.
Check our other auctions for more issues of Our Navy and Ships & Sailing from the 50's and 60's! [Box 47055] - [Item 118011]
Dealer accepts: PayPal, Money Order
Shipping: $4.50
Items Similar To "Ships & Sailing 6/51 US Merchant Fleet,Seattl"