Sherman Lead Company signed by Jerome Day as President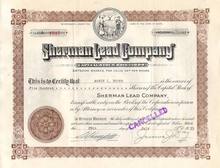 Click thumbnails for expanded view.

Beautifully engraved Certificate from the famous Sherman Lead Company issued no later than 1936. This historic document has an ornate border around it with a vignette of the Idaho State Shield. This item is hand signed by Jerome Day and is over 67 years old. When the Sherman Development Company found itself unable to meet a mortgage payment due on July 1, 1918, its board of directors concluded an agreement with Eugene R. Day wherein he would receive 51 percent of the company's capital stock in exchange for $153,000. Subsequently the company treasury could not produce the 1,020,000 shares of stock constituting E.R. Day's portion. Thereupon the company was reorganized. The new firm, called the Sherman Lead Company, took over all real and personal property belonging to Sherman Development Company and issued 3.5 million shares of capital stock at a par value of twenty-five cents. Sherman Lead's board of directors were P.J. Maggy, Axel Swan, Charles McKinnis (also serving as the company's first manager), Harry R. Allen and Walter B. Heitfeld. At the first board meeting Heitfeld resigned and Eugene Day was elected to the board to become the firm's first president. Of Eugene Day's $153,000, $100,000 went directly into the purchase of land. Eugene assigned his interest to the Tamarack & Custer Consolidated Mining Company, making Sherman Lead a subsidiary of Tamarack & Custer, which it remained for the remainder of its corporate life. Sherman Lead held twelve patented claims and one patented millsite over 97 acres. The claims were: the Sherman, Union Fracture, Union, Bengal Tiger, Hidden Treasure, Burke-Tiger, Bullion, Oreano, Sinker, Pearl, Pearl Fracture, and Moonlight. The mill was named the Bullion. Jerome Day was elected president of Sherman Lead in 1922, an office which he held until his death in 1942. During the earlier years the company was often strapped financially, having to borrow money to meet expenses. A fire in 1923 destroyed the company's surface structures and buildings. The mines were producing again by 1926, however, and in 1928 Sherman Lead increased its capital stock by 175,000 shares in a successful attempt to acquire the assets of Oreano Mining Company. By 1929, after six years of development, large reserves were discovered and Sherman Lead paid its first dividend. But in the following year Sherman shut down due to low metal prices. The mine frequently reopened and closed, being completely idled for the latter half of 1931, from July 1935 to June 1936, and again in June 1938 -- but, it paid a 12-mill dividend in 1937. The 1940s were more prosperous. By 1942 the war effort was receiving 72 percent of Sherman's total production, more than 400 tons of lead per month, and higher grade ore production had to be stopped in order to make available as much lead as possible. Dividends were paid every year from 1941-1947. Sherman Lead's years of greatest production were 1929, 1941 (the year unions were established in its mines), and 1942. The property value of the corporation's holdings increased from $100,000 in 1918 to $3 million in 1942. During the firm's twenty-nine year history, stockholders received a total of $797,475 through 14 dividend payments. In 1947 the Sherman Lead Company was consolidated with other Day interests to form Day Mines, Inc. The Sherman Mill, constructed near the portal of the Hercules mine in the early 1940s, operated steadily until 1942.
Fairfax, Virginia
Seller Since 1995

---
Payments Accepted:
Item Details:
Category
Coins & Currency
Dimensions
Width: 0 inch
Height: 0 inch
Depth: 0 inch
Weight: 0 pound
Condition
See Description
Items Similar To "Sherman Lead Company signed by Jerome Day as President"