Buy
Account
Sellers

Nancy's Dolls & Antiques has been in business since 1995. I sell a general line of antiques including dishes, teapots, cookie jars, depression glass, primitive country antiques for the ...

Fine Art and Antiques since 1975. 18th, 19th, and early 20th century furniture, oil paintings and accessories. Free appraisals.


Irene invites you to visit her Eclectic Collection of Antiques & Uniques from Around the Globe. Specialising in 18th, 19th, and 20th Century French, Italian, and German Furniture, with a...

Don and Bette Farrell Have been selling Antiques and Collectibles by Mail Order since 1976. We also offer a full line pattern matching service for China, Crystal and Flatware as well as man...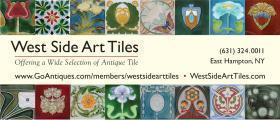 Welcome to our website and many thanks for visiting! Please also see other tiles for sale pictured at: WestSideArtTiles.com We offer a wide selection of original antique tile, includin...

Assets Antiques has been selling and buying antiques since 1988. We carry porcelain, china, sterling and fancy silver plate. Art Glass, cut glass and elegant glass from the Depression Era. ...

We are Beth Beverly, sisters who grew up in a family of collectors. Everyone had at least one (sometimes more) collections. Our collections were started for us when we were so young that we ...


The world famous London Silver Vaults, in the heart of London's legal district, is home to the world's largest collection of fine antique silver, and also to a wealth of knowledge on the sub...