Buy
Account
Sellers

Lynn's of Alameda est. in 1963 has been around for three generations. Family owned and operatedfor almost 40 years.We have a main showroom plus five more rooms of quality antiques and collec...

We are Beth Beverly, sisters who grew up in a family of collectors. Everyone had at least one (sometimes more) collections. Our collections were started for us when we were so young that we ...

RoGallery.com is an established art dealer and gallery located in New York City for over 30 years. We occupy a 10,000 square foot building that holds our extensive collection of select art...

Welcome to The Warehouse at Urban Artifacts - your source for antiques. We are a wholesale, warehouse with 14,000 Square Feet of space under one roof. The warehouse features a huge variety a...
Philadelphia, Pennsylvania

Southampton Antiques offers one of the largest selection of fine quality, antique, American made, Victorian, and turn-of-the-century oak furniture in the United States. They have over 300 it...
Southampton, Massachusetts

Antique dealer in New Jersey, dealing in general line antiques, specializing in lighting.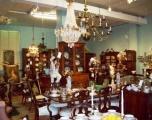 The Caroline Collection - One of the Southeast's finest and largest private collections of quality antiques, art and gifts.. Three huge floors of exquisite ever changing inventory in vignet...

Collum Antiques has been supplying quality antiques to locals and visitors to the Tampa Bay Area for over 17 years. This father-daughterteam has a wide range of interests that is reflected i...

Antique Longcase(Grandfather), Mantel, Bracket, Carriage & Wall Clocks + Antique Barometers, Watches & Music Boxes. We offer a U.K. and worldwide delivery service on our large select...