Buy
Account
Sellers

Welcome to SJ K-9 Rescue Boutique, which sales benefit working dogs (K-9s) rescue & training mission located in Northeast USA. Dogs come here from as far as Georgia and anything in-betw...
Egg Harbor City, New Jersey

Our staff has been proudly providing customers all over the continent with quality furniture and antiques since 1993. We are a family-owned business that has been in operation for 3 generati...
Deerfield Street, New Jersey

It is with great pleasure that we bring you our store and hope that you will chose a piece to call your own. From our family to yours, we offer you the best quality items at a competitive m...

All Vintage I buy and sell Antiques and Collectibles. I have been selling local 25+ years and online 10 years. I frequent Estate Sales, Auctions, Vintage Shops, ... I ship anywhere in t...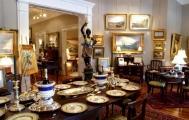 Scott is a 10 year veteran in the world of vintage, collectible and rare items. The business specializes in matching up buyers and sellers in the Antiques, Collectibles and Fine Art Indust...