Buy
Account
Sellers

All Vintage I buy and sell Antiques and Collectibles. I have been selling local 25+ years and online 10 years. I frequent Estate Sales, Auctions, Vintage Shops, ... I ship anywhere in t...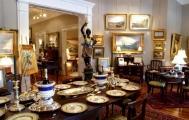 Scott is a 10 year veteran in the world of vintage, collectible and rare items. The business specializes in matching up buyers and sellers in the Antiques, Collectibles and Fine Art Indust...

Welcome to the on-line Unique Antiques Store on GoAntiques - We offer a wide variety of antiques and fine collectibles We are careful that most of the items we offer are at or near wholes...
Welcome to American Antiques & Auctions. We are a Store front in Columbus Ohio. We buy and resale Vintage & Antiques items, Gold, Silver, Coins, and more!