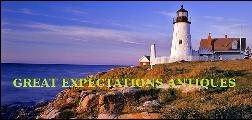 Great Expectations Antiques is a family owned company that has over ten years experience in offering antiques and collectibles for sale. We have a large selection of Antique and Used Woodworking, Machinist, Cooper's, Primitive, and Rare Tools. Since we are located in the heart of Ohio glass country, we also offer a wide variety of Glassware including Fenton, Fostoria, Cambridge, Northwood, Lancaster, US Glass, Art Glass, also Paperweights. Due to our love of reading, we have an extensive selection of antiquarian and rare books and maps; Other categories include costume jewelry & watches; lighting fixtures (lamps, chandeliers); porcelain and pottery (American, English, European); vintage textiles (hooked rugs, quilts, linens); collectible & antique toy trucks, cars, and dolls. Nice selection of vintage ladies accessories (purses, perfume bottles, jewelry boxes, music boxes). Our continuing goal is to offer quality items and excellent service to our customers. We look forward to the opportunity of serving you!
This is a nice clean older socket firmer chisel marked MNFD FOR SEARS ROEBUCK & CO. CHICAGO . ...
$24.00
This is a very nice 19th century, 1/2 wide curved gouge chisel marked BUCK BROTHERS CAST STEEL . ...
$16.00