King Street Traders/Gallery

Malvern, Pennsylvania

---
Payments Accepted

Fine Art and Antiques since 1975. 18th, 19th, and early 20th century furniture, oil paintings and accessories. Free appraisals.
Listings from King Street Traders/Gallery
THIS CITY-SCENE WAS DONE BY BLONDIN IN THE 30'S-40'S. THE PAINTING IS SIGNED IN THE LOWER LEFT. BLONDIN IS A LISTED ARTIST WHO HAS MANY AUCTION RECORDS. THE FR...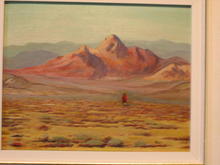 ROLAND WAS BORN IN 1911. HE IS LISTED IN WHO WAS WHO, IN THE CA. ARTIST BOOK, AND IN THE ARTIST OF THE AMERICAN WEST. THIS PAINTING IS SIGNED IN THE LR. THE SU...