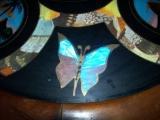 Payment Policy
PayPal is what we prefer. Some
sales may require special payment
arrangements, but that is unusual.
Shipping Policy
We offer free shipping to the lower
48 contiguous United States for most
of our items. We have a
shipping agent who provides
professional packaging for
many items we sell. Altho new
on Go Antiques, We've
received 100% positive feedback
for almost 700 sales on another
website.
Return Policy
We guarantee full refund of purchase price
and for original shipping if we have misrepresented
an item if the item is returned within 14 days.
Buyer is required to pay shipping charges for return.
We strive to give honest and excellent service
to every buyer. We welcome inquiries and comments.