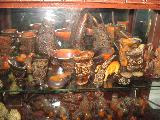 Payment Policy
" If paid by personal check , we will ship 3 days after the check has cleared ." All payments must be made in US Dollars."
Shipping Policy
Item will be shipped insured within 3 business days of receipt of payment or upon clearance of checks. All items are to be insured by purchaser.
Return Policy
Buyer has (7) days to return item if not completely happy with item and ask for refund .