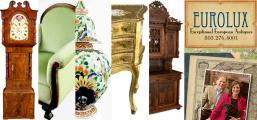 Payment Policy
All payments must be made in US Dollars. If paying by personal check, we will ship 7 days after the check has cleared our account. If you prefer to pay by credit card without using PayPal, please call us at 803-276-4001 to process your payment. We can accept Visa, MasterCard and Discover directly over the phone. South Carolina Residents and customers picking up their items at our retail location in Newberry, SC, must pay 7% state sales tax.
Shipping Policy
All orders are processed within 24 hours, although it may take up to 2 weeks for the order to be picked up by the carrier, depending on the shipping method.
Orders shipping via FedEx/UPS Ground or USPS normally ship within 1 to 5 business days.
Larger items (under 100 pounds) ship via Greyhound and are transported to your door by courier service. Greyhound service normally takes 1 to 3 weeks for delivery, depending on delivery location. Someone must be present to accept and sign for the delivery.
Furniture (over 100 pounds) is shipped via white glove delivery service, which includes bringing the item into your home and placing the item in the room of your choice on the main level of your home. This service includes light assembly and the removal of packing materials. White glove service normally takes 3 to 4 weeks, although delays may occur for more remote locations. Someone must be present to accept and sign for the delivery.
TRANSIT DAMAGE
In the event that damage is evident upon receipt of an order left at your door, please keep all packing material and report the damage to us immediately so that we can make a claim against the insurance policy. Digital photos from as many angles as possible are encouraged as evidentiary documentation of the condition of the package and item upon receipt. We reserve the right to request the return of damaged items.
When a delivery driver is present, you have the right to inspect any package you receive, particularly if the exterior of the package appears not to be in good condition. In the case of white glove delivery, please thoroughly inspect the item prior to signing the delivery receipt. If you refuse the shipment due to obvious damage, we encourage the Buyer to take digital photos from as many angles as possible, including the exterior packaging. In order for the insurance policy to repair or replace the item, the Buyer must have the driver sign off that the package was damaged or mishandled in transit. Per federal interstate commerce law, carriers maintain the right to repair pieces damaged in transit back to 100% factory standards. If the Buyer signs that the item was received in good condition, the insurance policy ends at that time. Please follow these guidelines carefully in case you need to file a claim or refuse a shipment. If you have any questions about signing off for a shipment from us, please call us at 803-276-4001.
EUROLUX HOME MUST BE NOTIFIED OF CLAIMS IN WRITING WITH PICTURES AND DETAILS WITHIN 7 DAYS OF DELIVERY. EMAIL IS ACCEPTABLE FOR THESE PURPOSES.
Return Policy
All items sold on this marketplace are returnable within 14 days of delivery for a refund of the full price of the item less the actual outbound shipping costs and a 20% restocking fee. Your unused item must be returned in its original condition and packaging at your expense.
• If an item was sent with "free shipping," the actual outbound shipping cost will be deducted from the refund if an item is returned.
• A 20% restocking fee will also be deducted from the refund.
• The buyer is responsible for the cost of return shipping. Please be sure to insure the return shipment and to send the tracking number in order to expedite your refund.
• Returned items received in damaged condition due to the fault of the carrier will be subject to the carrier's insurance claims process and will be handled by the buyer.
• The Buyer is encouraged to ask as many questions prior to purchase as possible to avoid having to return an item. Please contact us if you have specific questions about your product.
• For questions about a charge that has been made to your credit card, please contact the marketplace.