Scientific American 1885 Bridge Construction Equipment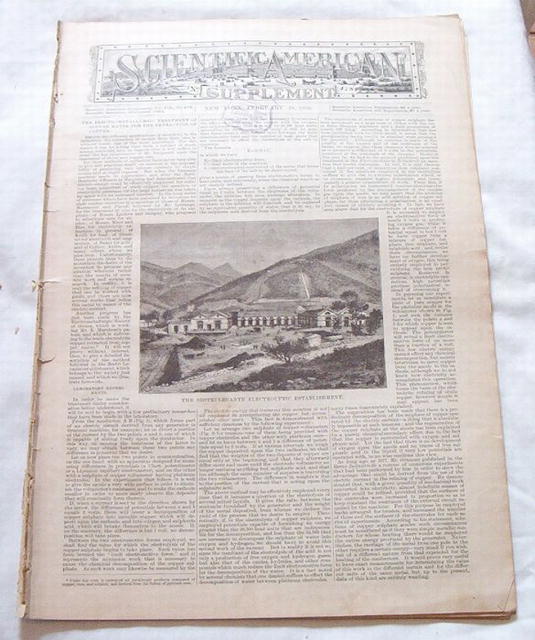 This is Scientific American Supplement #478, February 28, 1885. Fascinating articles, beautifully illustrated with detailed drawings, diagrams, and engravings.
Topics include: The Electrometallurgic treatment of copper matte for extraction of copper - cover depicts the Sestri-Levante Electrolytic Establishment; Blanchard Furnace and Steam Generator; Machinery used in constructing the Forth Bridge (2 full pages of detailed illustrations, diagrams); Mud and Garbage Receiver (illust); Improved Compound Steam Engines; A London Subway; Regray's apparatus for heating car warmers; Electro-Chemical Rings compared with those obtained by physical, mechanical, or chemical way (numerous diagrams/illustrations); O'Keenan's New Electric Pile (illust); full-page engraving of the New Parliament House, Buda-Pesth, Hungary - Emmerich Steindl, Architect; Smilax Aspera (illust); The Phylloxera at the Turin Exhibition; Zinc in Drinking Water; and many articles or short stories about various other topics.
Also - Correspondence, Notes and Queries, Patents, great period advertisements. Size 12"x17". Pages 7623-7638. Condition is good, pages are loose and separating along the fold line.
Dealer accepts: Money Order, PayPal
Shipping: $4.50
Items Similar To "Scientific American 1885 Bridge Construction Equipment"