Scientific Amer. 1876 Roman Aqueducts,Concrete Cottages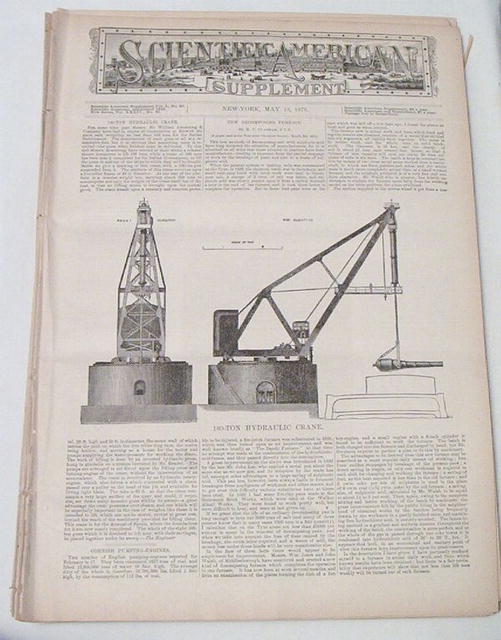 This is Scientific American Supplement, May 13, 1876. Fascinating articles, beautifully illustrated with detailed drawings, diagrams, and engravings.
Topics include (asterisk indicates one or more illustrations):
Cover article about 160-Ton Hydraulic Crane (*) New Decomposing Furnace International Exhibition Buildings - (* of the South, The U.S. Govt. Bldgs., British Govt. Bldgs., and the Carriage Exhibition Building) Bridge Piers Bishop's Plan for Submarine Tunnels Proposed Rolling Bridge over the Thames, London (*) Bishop's Plan for Channel Railway Tunnel (*) The Ancient Roman Aqueducts (*) Straightening the course of the Danube River (* map of new bed of Danube at Vienna) The Courreux Excavating Apparatus (*) How to make spiral springs (*) Concrete Building (* of designs for concrete cottages, by Henry Macaulay) A History of Longhorn Cattle (several * of cows) ...and more.
and many articles or short stories about various other topics. Also - Correspondence, Notes and Queries, Patents, great period advertisements. Size 12"x17". Pages 305-320. Condition is fair, pages separating along fold line. Some small tears.
Dealer accepts: Money Order, PayPal
Shipping: $4.50
Items Similar To "Scientific Amer. 1876 Roman Aqueducts,Concrete Cottages"