Scientific Am.1876 Challenger Expedition,Ophthalmoscope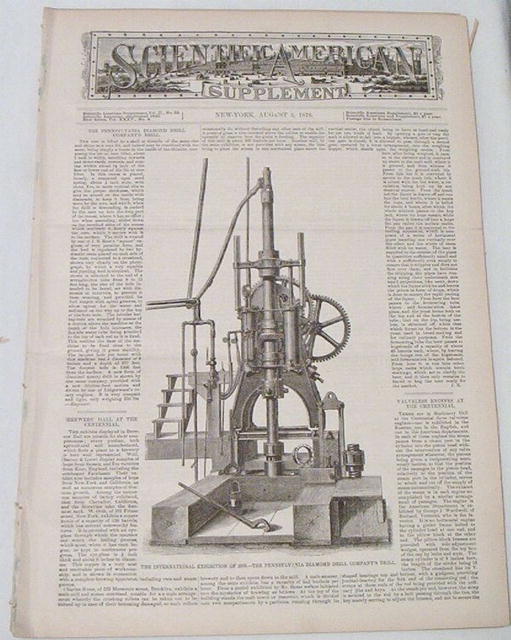 This is Scientific American Supplement, August 5, 1876. Fascinating articles, beautifully illustrated with detailed drawings, diagrams, and engravings.
Topics include (asterisk indicates one or more illustrations):
Cover article about The Pennsylvania Diamond Drill Company's Drill (*) Valveless engines at the Centennial Brewers' Hall at the Centennial Boiler and Engine for Navy Cutters - detailed schematic (*) The Norwalk Steam Engine (*) The Niagara Duplex Air-Pump (*) American Iron Bridges The Importance of a Knowledge of the Laws of Health Article and two detailed full-page engravings of Pumping Engine of the Lehigh Zinc Co., Pennsylvania (*) The "Challenger" expedition on the Atlantic Ocean Effects of Electricity on Particles Suspended in Liquids Lessons in Mechanical Drawing (*) Toselli's New Domestic Ice Machine (*) How to Build Cheap Boats (cont'd) (*) The Ophthalmoscope (*) House Drainage (*) Grease Traps (*) Precious Stones in Brazil Huge Meteorites from Greenland (* of rock and map where found) ...and more.
and many articles or short stories about various other topics. Also - Correspondence, Notes and Queries, Patents, great period advertisements. Size 12"x17". Pages 495-510. Condition is good, some small tears, pages are separating along fold line due to age/fragility.
Dealer accepts: Money Order, PayPal
Shipping: $4.50
Items Similar To "Scientific Am.1876 Challenger Expedition,Ophthalmoscope"