Royal Copenhagen by H.V.F. Winstone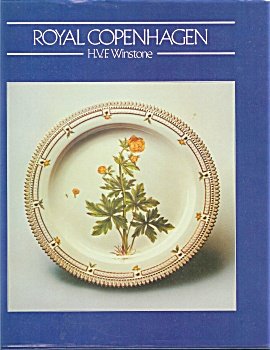 Of all the great European ceramic houses, Royal Copenhagen has over the years proved the most loyal yet brilliant custodian of the potter's art. No other European factory has survived for so long and yet sustained such artistic distinction in earthenware, stoneware and porcelain. Its special quality has always been contemporary excellence balanced by healthy respect for its distinguished tradition. And so today it stands as a guardian of the past, still producing works of art that are bywords in the history of porcelain manufacture - such as the 'Immortelle' decorated series, and the fabulous Flora Danica - and yet its influence on the development of modern ceramics is unsurpassed.

In Royal Copenhagen V H F Winstone charts with elegance and scholarship the progress of the Royal House from its official inception in 1775 through the hazards of Court intrigue and the upheavals of the Napoleonic Wars to its current preeminence. The many magnificent colour illustrations bear witness to the extraordinary range of Royal Copenhagen's technical virtuosity. They illustrate the influence the porcelain house has had on the development and direction of European art. Royal Copenhagen provides an informative, entertaining and visually beautiful account of Copenhagen ceramics. Its detailed captions and appendices contain much valuable information on artists, techniques, factory marks and the clays used. It is an indispensable source of reference for collectors'.
Dealer accepts: PayPal
Shipping: Negotiated with Seller
Items Similar To "Royal Copenhagen by H.V.F. Winstone"