Robert Anderson, S/N Lithograph, Jack of hearts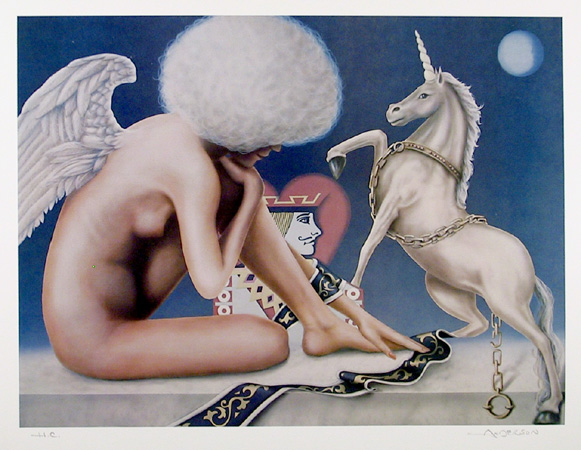 Artist: Robert Anderson
Title: Jack of hearts
Medium: Lithograph
Edition: HC
Paper Size: 20" x 28"


Portraiture has been a dominant category of American painting from Colonial times until the mid-Nineteenth Century. They consisted chiefly of bust or full-length reproductions of people frozen in rigid similar poses. Surveying the contemporary portraiture of Robert Anderson, we see enormous changes, not only in art techniques, but also in national social attitudes and sexual mores since the country's founding 200 years ago.

Anderson's work has, in contrast to his refined photo-realist technique, a definite, causal blu'e-jeaned feeling of the 60's and 70's. Anderson also successfully combines imagery from different eras of American history into modern muses and fantasies. His work has also been called "Victoriana Revisited" which is a description of the sublect matter and overall atmosphere. All of Anderson's canvases are good to look at, a quality that makes their otfbeat manipulation of time and space very acceptable.

Anderson uses a soft focus airbrush technique. He uses shadows to show that his foreground figures are not really part of their settings. His combination of softedged and hard-edged techniques provoke the viewer to wonder if all the elements are truly a part of the same scene. Anderson's paintings are executed in a surrealist vein. Although they celebrate people and faces in a realist way, the atmosphere they evoke reaches into moods.

The moods suggest mysteries of personality, character and the mind; thus, one is confronted with a kind of uneasy psychological portrait that transcends the visual, data of the features and body. The artist achieves his pictorial ambiguity between the real and surreal by the precision with which he depicts an individual and the uncertainty suggested by bold, dark areas and the somewhat telepathic glances of his subjects.
Dealer accepts: Authorize.Net, PayPal, Check, Cash
Shipping: Negotiated with Seller
Items Similar To "Robert Anderson, S/N Lithograph, Jack of hearts"