Road & Track 6/67 Mark Donohue and Skip Scott Profiles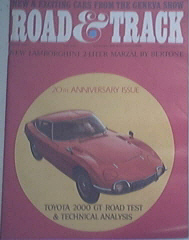 $15.00
Quantity available: 1
Road & Track 6/1967 Vol.18-No.10
Road Tests:
Toyota 2000 GT Ponatiac Firebird Sprint
Design Analysis:
Toyota 2000 GT-details, drawings and discussion of this new model
Preview: U.S. Racing '67
Major U.S. Events for 1967 Directory of U.S. Circuits
Product Review:Alloy Wheels
Alloy Wheels-what;s available, what they'll fit & how much they cost
Features:
20th Anniversary Quiz Geneva Auto Show Beyond the Fire-a fable for our time by Charles Beaumont Brockbank's Pit Types-you're bound to recoginize some of these New Racing Cars-Alfa V-8 & s/c GTA, Ferrari F1 & F2, McLaren F2 Two Young American Drivers- profiles of Mark Donohue and Skip Scott
Competition:
Eagle wins at Brands Hatch-Dan Gurney starts the season right 1967 Tasman Champsionship
and more articles, photos and ads of the time! Overall Very Good Condition! 128 pages
CHECKOUT our other auctions for many other collectibles, memorabilia, etc. Just click View seller's other items in the top right corner underSeller information.
[Box 6636] - [Item 122508]
Dealer accepts: Money Order, PayPal
Shipping: $4.50
Items Similar To "Road & Track 6/67 Mark Donohue and Skip Scott Profiles"