Road & Track 5/67 International Challenger Lola 70 Mark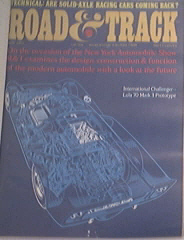 $15.00
Quantity available: 1
Road & Track 5/1967 Vol.18-No.9
Road Tests:
Two BMWs-the 1600,newest of the line,plus the 2000 Tilux sedan Datsun 1600 Sports
Special Feature:
The State of the Automotive Art 1967-a thoughtful look at today's cars
Technical: Solid Axle Racing Cars Comming Back?-Joe Lowery invesigates the idea
Lugging,Revving & Downshifting-which will answer many questions? Lola 70 Mark III-Eric Broadley offers one car for two kinds of racing Aston Martin's New Racing Engine-a dohe V-8 for Group 6 racing Features: BMW Formula 2 Engine-an interesting new design by Ludwig Apfelbeck Vintage Sports Car Club Chris Amon-an exciting young new driver now on his way to the top The Flagman's Story-what it's really like to work a flag station SCCA's Annual Awards Ferrari 330/P4-the Daytona winner, photos and specifications The Flight of the Thunder Beetle & Other Tales-a Dick O'Kane Story
Competition:
Daytona 24hr Continental-Ford Falters and Ferrari scores impressively Motor Trend 500-Henry Manny views stock car racing at Riverside
and more articles, photos and ads of the time! Overall Very Good Condition! 140 pages
CHECKOUT our other auctions for many other collectibles, memorabilia, etc. Just click View seller's other items in the top right corner underSeller information.
[Box 6636] - [Item 122507]
Dealer accepts: PayPal, Money Order
Shipping: $4.50
Items Similar To "Road & Track 5/67 International Challenger Lola 70 Mark"