Riggs National Bank Stock Certificate - Washington DC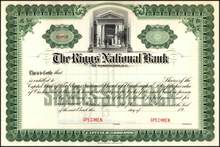 Click thumbnails for expanded view.

$295.00

---

Item Not Available
Beautifully engraved RARE SPECIMEN certificate from the Riggs National Bank. This historic document was printed by the American Banknote Company - New York no later than 1920 and has an ornate border around it with a vignette of the famous Riggs Bank building. This is the first time we have seen this certificate.
Certificate Vignette Riggs Bank History 1836 William Wilson Corcoran opens a note brokerage house---an early form of bank. 1837 Businessmen from New York and abroad, including former neighbor Elisha Riggs, shield the Corcoran brokerage house from collapse during the economic panic. 1840 Corcoran and George Washington Riggs, Elisha's son, form Corcoran Riggs, a partnership that offers depository and checking services. 1842 States-rights Democrat John Tyler is the first President of the United States to bank at Corcoran & Riggs. 1844 The U.S. government selects Corcoran & Riggs as the sole federal depository in Washington. 1845 Corcoran & Riggs finances the invention of the telegraph by Samuel Morse. Corcoran & Riggs purchases the buildings and assets of the Washington branch of the defunct Second Bank of the United States, located across the street from the Treasury. Corcoran & Riggs invests heavily in railroads and land, contributing to the nations push westward. 1847 Corcoran & Riggs lends $16 million to the U.S. government for the Mexican War and subsequently covers the loan by selling bonds to London financial houses. As the first sale of American securities in Europe since 1837, this transaction bolsters the credit of all American bankers. 1850 Senators Henry Clay, John C. Calhoun and Daniel Webster bank at Riggs. 1853 U.S. Army Corps of Engineers opens Corcoran & Riggs accounts for construction of the Washington Aqueduct and the extension of the Capitol. 1854 Corcoran retires to devote his life to private investments and charitable causes; George Washington Riggs takes over the bank under its new name, Riggs & Co. 1861 Abraham Lincoln opens an account at Riggs shortly before Civil War hostilities begin, only weeks after Confederate President Jefferson Davis closes his account. 1865 Instead of accepting a charter under the new national bank act, Riggs & Co. remains a private bank. This decision accounts for the bank's stability in the aftermath of the Civil War. 1868 Upon the request of Secretary of State Seward, Riggs & Co. supplies $7.2 million in gold bullion to the U.S. government to purchase Alaska from Russia. 1873 Financial panic throws banking houses across the nation into confusion, yet Riggs deposits double within the next three years. 1881 Following the death of George Washington Riggs, Charles Carroll Glover becomes the dominant force in the bank. 1896 Riggs & Co. accepts a national banking charter. The Riggs National Bank elects its first board, sells stock, and shifts its focus from specialized investment services to general banking services for a large clientele. Glover becomes the first president of the bank. 1900 Lawrason Riggs, the last member of the family associated with the bank, retires from the board of directors. With deposits of more than $5 million, Riggs is twice as large as any other bank in the District of Columbia. Riggs issues stock to National City Bank, the largest New York bank, to forge a profitable alliance. 1902 Successful American reports: "The Riggs National Bank is to Washington as the Bank of England is to London." 1904 Headquarters at 1503 Pennsylvania Avenue opens. It features a Ladies' Department designed to meet the special needs of women, including American Red Cross founder Clara Barton and suffragist Susan B. Anthony. 1907 Even though a panic creates severe money shortages, Riggs pays an extra dividend to its shareholders. 1908 Charles Glover presents his plan for economic relief to Congress. This serves as the foundation for a series of financial reforms, including the establishment of the Federal Reserve System in 1913. 1915 Moody's financial monthly reports that Riggs has been for years the favorite bank of army and navy officers, through whose travels its name has been carried to all parts of the world. It has been said that in the Far East the Riggs Bank is the best known American banking institution. 1919 General John J. ("Black Jack") Pershing salutes from horseback during his victory parade. He later joined Riggs' Board of Directors. 1920 Riggs takes advantage of provisions in the Federal Reserve Act that allow national banks to accept savings deposits and establish a trust department. 1921 Former Assistant Secretary of the Treasury Milton E. Ailes succeeds Glover. 1922 Following consolidations with two local banks, Riggs opens its first four branches. 1925 After the sudden death of Milton Ailes, Robert V. Fleming becomes Riggs' president at the age of 35. 1928 Riggs merges with Farmers and Mechanics Bank of Georgetown, which a Riggs family member helped found in 1814. 1929 Whereas over-speculation strains the resources of most banks, Riggs does not lose any assets because of bad loans or investments following the Great Crash. 1931 Riggs Bank provides $500,000 in cash to Perpetual Savings and Loan of Washington. Depositors and other banks match this sum to end runs on Perpetual. 1933 Fleming advises Roosevelt regarding the structure of the newly established Federal Deposit Insurance Corporation. 1935 The American Bankers Association elects Fleming its president. 1939 Total assets are $119 million, compared to $57 million when the Great Depression began. During those years, 40 percent of all U.S. banks failed. 1941 Robert Fleming makes a national broadcast appeal for war bond sales; by 1945 Riggs will have sold $233 million in war bonds. 1942 The Bureau of Standards stores their most precious items -- standards of length and mass made mostly of platinum --in the vaults at the Chevy Chase Bran
Fairfax, Virginia
Seller Since 1995

---
Payments Accepted:
Item Details:
Category
Coins & Currency
Dimensions
Width: 0 inch
Height: 0 inch
Depth: 0 inch
Weight: 0 pound
Condition
See Description
Items Similar To "Riggs National Bank Stock Certificate - Washington DC"